Kirsten Powers And Bill O'Reilly Clash Over Whether Gun Bans Make Women More Unprotected And Vulnerable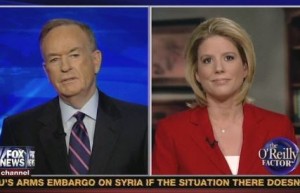 Kirsten Powers sat down with Bill O'Reilly tonight over the question of whether the pro-choice abortion argument can be applied to gun control. O'Reilly brought up a recent town hall confrontation where Democratic congressman Jim Moran was grilled by a gun rights advocate making a feminist argument that supporting the rights of gun-owners is "pro-choice" when it comes to the ability of women to defend themselves. Powers rejected the choice argument, and clashed with O'Reilly over whether gun bans threaten the safety of women.
RELATED: Laura Ingraham Flips War On Women On Democrat's Fear Of Gun-Wielding Co-Eds: 'Where Are All The Feminists?
O'Reilly found the appropriated language interesting, but Powers couldn't understand how "pro-choice" logic applies. She said the gun control debate is ultimately about "what is the best thing for society," disputing the idea that supporting restrictions on weapons is the same as removing the ability of law-abiding citizens, and women in particular, to defend themselves.
O'Reilly agreed that the language choice may have been a little confusing, but he largely agreed with the point the woman at the town hall was making, telling Powers that women find themselves at a "deficit" when gun bans are implemented in places like Chicago. Powers said she's lived in dangerous neighborhoods and never felt unsafe without a gun on her person. She also called out O'Reilly for suggesting that she would be taking a position that would seek to undermine women's safety.
Powers also told O'Reilly she finds the whole idea of a choice argument, whether it be for guns or abortion, to be a "silly" one, and O'Reilly concluded the segment by telling her she's "dead wrong, pardon the pun," on gun control.
Watch the video below, courtesy of Fox News:
—–
Follow Josh Feldman on Twitter: @feldmaniac
Have a tip we should know? tips@mediaite.com
Josh Feldman - Senior Editor