Krauthammer To O'Reilly: GOP Shouldn't Shun Christie In Spite Of Giving Obama 'Lap Dance' After Sandy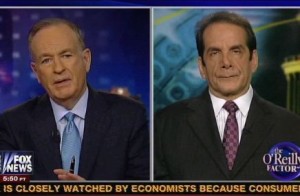 New Jersey governor Chris Christie has not been invited to speak at the annual Conservative Political Action Conference this year, due to what one insider described as his "limited future" within the Republican party. Bill O'Reilly brought on Charles Krauthammer to talk about why this happened, with both men surmising it had to do with Christie embracing President Obama during Hurricane Sandy. Krauthammer quipped that it was more than an embrace, it was a "lap dance."
RELATED: Scarborough Tears Into Christie's CPAC Snub: Maybe 'I Am A RINO' — Since GOP Doesn't Care About Winning
O'Reilly presumed that this was all due to Christie publicly embracing the president in the wake of Hurricane Sandy a week before the 2012 election. Krauthammer said it was a "vast overreaction" and a mistake by CPAC, considering his high popularity in blue state New Jersey and his likelihood of running for president in 2016. He admitted that Christie deserved "three months in quarantine" after his embrace of Obama, but said the party needs to move on and embrace the "wide tent."
O'Reilly asked why there appears to be a "lasting bitterness" from CPAC leadership trying to diminish his relevance in the party. Krauthammer said they might be trying to "define legitimate ideology" and push people out, and made this observation about Christie and Obama's relationship in the midst of the storm.
"I would call it unfortunate, although I think he could explain an incident, meaning the Sandy embrace. I thought it was more than an embrace, it was kind of a lap dance, although I'm not sure I like the image."
O'Reilly and Krauthammer decided not to dwell on the image.
Watch the video below, courtesy of Fox News:
—–
Follow Josh Feldman on Twitter: @feldmaniac
Have a tip we should know? tips@mediaite.com
Josh Feldman - Senior Editor