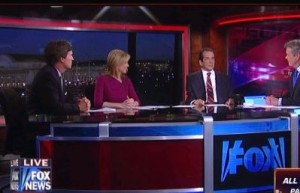 Almost everyone in the Obama administration, including President Obama himself, has been apologizing to Muslims all over the world after NATO forces burned copies of the Quran in Afghanistan yesterday. Protests have erupted all over Afghanistan, and over a dozen people were killed in the middle of protests today. On Fox News' Special Report today, guest host John Roberts focused on the U.S. reaction to the protests, with some strong words being thrown at the Obama administration for its continued apologies.
RELATED: Fox News Says It Will Not Cover Burning Of Koran (UPDATE)
Charles Krauthammer said it was frankly "embarrassing," and instead of just being a straight apology to Muslims all over the world, the administration was "groveling to the mob." He argued all the administration needed to do was just come out with a singular apology from a commanding officer in Afghanistan, and that would have been sufficient. Krauthammer found it especially hard to believe any impetus was on President Obama to apologize, but what bothered him more was what perceived as an international double standard on the need for sufficient apology.
"This is a world in which nobody asked the Islamic Conference, a grouping of the 56 Islamic countries, to issue an apology when Christians are attacked and churches are burned in Egypt or in Pakistan. And had we heard a word from any Islamic leader anywhere about the radical Muslims in Nigeria who are not only burning the churches, but burning women and children who are in the churches, when I hear that, I'll expect my president to start issuing apologies."
This very issue was addressed a few weeks ago in a Newsweek cover story titled "The War on Christians." Writer Ayaan Hirsi Ali accused Western media outlets of participating in a "conspiracy of silence surrounding this violent expression of religious intolerance," though she did admit the silence may be due to a fear of fanning the flames and creating a larger conflict in the region.
Kirsten Powers, however, disagreed with Krauthammer, first arguing there have been some people speaking out against the persecution of Christians in Muslim nations, before explaining that Obama's apology was necessary because this is the time of situation that may lead to U.S. soldiers being killed. "If Bibles were burned," she said, "I think people would be demanding apologies." Tucker Carlson interjected to note that there probably wouldn't be this kind of violent reaction amongst Christians if such a situation occurred. He made it clear that there was a strong likelihood that Quran burning may have been an accident, because it is not part of official U.S. policy. But Carlson called for President Hamid Karzai to issue an apology of his own for the violence going on in his country.
RELATED: Religious Scholar? Donald Trump Claims The Koran 'Teaches A Very Negative Vibe'
Krauthammer added that Christians never rioted over Andres Serrano's infamous "Piss Christ" photograph, and members of the Church of Latter-Day Saints have not stormed Broadway over The Book of Mormon.
Watch the video below, courtesy of Fox News:
Have a tip we should know? tips@mediaite.com
Josh Feldman - Senior Editor