Lawrence O'Donnell Mocks Media For Believing Sarah Palin Bus Tour Isn't Over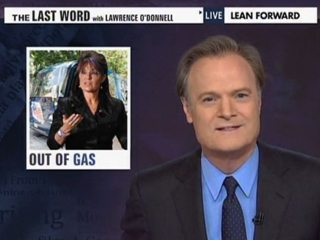 Sarah Palin's "One Nation" Bus Tour, previously partially overshadowed by Anthony Weiner, surfaced once again today as news came of the Fox News personality returning to Alaska mid-tour (she has since denied this means an end to the tour). But not everyone in the media believes her– Lawrence O'Donnell, for one, has declared the tour dead, and laughed tonight at the idea that she will hit the road once more.
Palin explained (on Facebook, of course) that her reason to return to Alaska was jury duty, and that she was "looking forward to hitting the open road again." "Well, so am I!" O'Donnell noted, highlighting the indefiniteness of her return with the argument that everyone longs for their vacations, but that does nothing to confirm when they will happen. Her industry now, O'Donnell explained, is "the maintenance of celebrity," and not politics. "Once someone has quit a governorship halfway through, the media should be ready for this," he scoffed.
O'Donnell's guest to discuss the matter, Jonathan Capehart, agreed that it appeared Palin's promise to return to the road was flimsy, at best, but also lamented the media's insistence on treating Palin as a political figure and not a celebrity. "This is ridiculous," he sighed (though he seemed far more enthralled by Palin's announcement contradicting the announcement of her hiatus from touring earlier in the day). He also gave Palin faint praise, calling her "not a good politician, but she's a phenomenal star" and "media catnip." O'Donnell, for the most part, agreed, adding, as he has said repeatedly, that he predicts Palin will definitely not run for president.
The segment via MSNBC below:

Have a tip we should know? [email protected]