Lawrence O'Donnell Trashes Media For Fearing The Word 'Lie' To Describe False Talking Points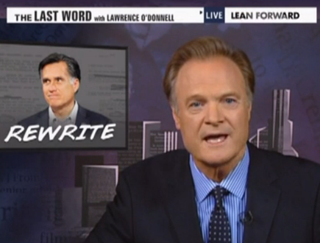 If you get nothing else out of Lawrence O'Donnell's "Rewrite" segment tonight, remember only that Mitt Romney is a liar. That was the core message on tonight's Last Word— that Romney lied about never favoring a government health care mandate but, more importantly, that no one will ever call him out for it, because the word "lie" is omitted from public discourse.
RELATED: Mitt Romney: 'We Would Be Signaling Our Doom' If GOP Nominee Is Not Decided Before Convention
The media, he argued, "may use the word 'untrue,' but they will never use the word 'lie.'" O'Donnell didn't begin to show the evidence for his thesis about the media before showing how other candidates react to being confronted with a lie: Rick Santorum managed to bring up the fact that Romney supported the mandate, but couldn't do so without sputtering to find the right word to describe the lie (he settled on saying it was inaccurate).
"The word lie just can't seem to find its place," O'Donnell argued, and noted that "no candidate in history has benefited more from this politeness than Mitt Romney." Benefiting so much, he suggests, that Romney is "betting his campaign on it." And so far, O'Donnell seems to think it has worked, since the media "fear that word as much as they fear using profanity." He gave the media credit for inventing the term "spinning," but left most of the hope for Romney: "in a public discussion where his lies will never be called lies, all he has to do is keep spinning the political media."
The segment via MSNBC below:

Have a tip we should know? tips@mediaite.com