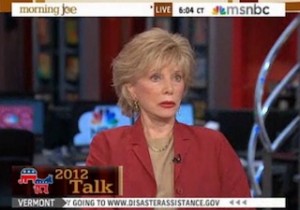 While visiting an American Legion in Minneapolis yesterday, GOP presidential candidate Michele Bachmann invoked the names of Ronald Reagan and Margaret Thatcher for how they "restored the economic and military greatness in their time period." After this clip was played on the set of Morning Joe, 60 Minutes reporter, and "friend of Ronald Reagan," Lesley Stahl drew a surprisingly favorable comparison between Rep. Bachmann and former President Reagan.
Joe Scarborough introduced Stahl by making reference to Lloyd Bentsen's famous quip to Dan Quayle, saying of Reagan "he was a friend of Lesley Stahl's and Michele Bachmann is no Ronald Reagan." Stahl responded somewhat surprisingly to the Morning Joe panel, telling them "I'm not sure if you look at the first campaign he ran," before adding "this group would have said almost exactly what we say about Michele Bachmann — he can't get elected; he's too radical; he's an actor." She finished by reminding everyone that, in his 1976 presidential run, "no one thought he was going to get elected."
Her point is that, despite the recent hagiography surrounding Reagan, many forget that many presidential historians see his open endorsement of the Moral Majority as the start of a long term and politically expedient relationship between the Republican party and the religious right (for better or worse depending on one's political persuasion.)
Stahl then drew a much more negative comparison between Obama and Reagan, impossibly suggesting that the sitting president "isn't the target in the same kind of anger that we felt to Reagan." She then dismissed Obama's coming speech on jobs, a full week before it's "scheduled" delivery:
Go back to the point about how this President, how many — if you got a room full of random 100 people from all political sides and said how many people think the speech he's going to give is going to ignite our passion and make us enthusiastic. If he's going to give us an idea that we can understand and come behind and no one will raise their hand. No one thinks it's going to happen. Then what? he goes out to sell what?
While some might see this comment as being dismissive to President Obama, she may be doing him a favor by greatly lessening the expectations of Obama's coming speech, a point that Mika Brzezinski makes shortly after.
Watch the interesting segment below, courtesy of MSNBC:
Have a tip we should know? tips@mediaite.com