Maddow Theorizes Real Goal Behind Susan Rice Criticism: Vacating John Kerry's Senate Seat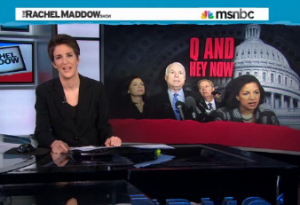 Rachel Maddow was a bit incredulous over the three GOP senators' reactions after meeting UN Ambassador Susan Rice on Tuesday. For people who "run nothing," she said, they've been awfully dissatisfied despite Rice's going out of her way to answer their questions. That led her to outline her theory for why Republicans are really so opposed to Rice's potential Secretary of State nomination.
"Isn't it starting to seem possible that no matter what answers these guys are given, no matter what access to what information and what officials, they are still just going to keep saying they still have more questions?" Maddow asked.
With that, she dove into her own theory. She began back in 2004, when Mitt Romney was the governor of Massachusetts and John Kerry, a Democratic senator from the same state, was running for president. Had Kerry won and his Senate seat opened up, Maddow said, Romney would have been able to appoint someone to fill Kerry's seat. Figuring he'd pick a Republican, the state legislature changed the law, requiring a special election to fill the seat. But Kerry didn't win, so "that became a moot point."
Then, in 2009, Sen. Ted Kennedy passed away due to cancer. That "meant that his seat did become empty in Massachusetts, and the Democrats no longer had their 60-vote supermajority, which they needed to pass health care," Maddow said. With this in mind, Kennedy wrote a letter "urging that the governor of Massachusetts be allowed to fill an empty Senate seat if one were to open up." And the law changed again.
In the meantime, there was the special election to fill Kennedy's seat — which went to Scott Brown, a Republican. In 2012, Brown was ousted by Democrat Elizabeth Warren. It was a hard-fought and expensive race, Maddow said, and now "Republicans wanted to talk about how to get Scott Brown back to Washington."
Kerry happens to be a high-profile Obama supporter, she said, and a supposed frontrunner for the Secretary of State position. Should he get that position, it would open up his Senate seat, "which would be the best chance of putting a Republican in the Senate any time soon." And the other reported frontrunner is… Susan Rice.
That's why they got excited to hear Kerry's name floated, Maddow argued. If John Kerry becomes Secretary of State, there's going to be a special election for a Senate seat, and "there would be this chance that Scott Brown could be back in Washington."
"Maybe this is nuts" or "way too simplistic," she said. But it "makes more sense than the contention we're supposed to believe."
Watch below, via MSNBC:

Have a tip we should know? tips@mediaite.com