Maher And Maddow Battle GOP Panelist Over Ryan Budget: 'Ballsy' To Propose That After 'You Get Your Ass Kicked'
Maher And Maddow Battle GOP Panelist Over Ryan Budget: 'Ballsy' To Propose...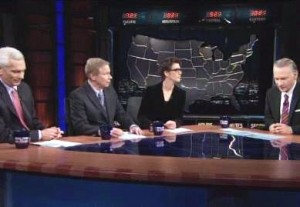 Bill Maher opened the panel discussion on his show tonight with the competing budgets released by Republicans and Democrats this week. And while he criticized all the different budget proposals for avoiding the Social Security third rail like the plague, he particularly had issues with Paul Ryan's budget not just for increasing defense spending, but for proposing basically the same thing that he and Mitt Romney ran on last year. Maher said he thought this was all decided already, remarking, "That is a little ballsy after you get your ass kicked."
RELATED: Rachel Maddow Rips GOP And Paul Ryan For Continuing To Dredge Out 2012 Campaign 'Lies'
Jared Bernstein said Ryan's budget repeals so much so unfairly that there is no way to take his proposal and bring it to the middle in any sensible compromise. Former Republican congressman Tom Davis pointed out that his party kept the House in 2012, so maybe that was a sign that the people wanted divided government, but Maher jumped in to say that was more due to gerrymandering than anything else.
Davis changed the subject to ask where Obama's budget is. Bernstein dismissed his point and said budgets are never binding documents, merely negotiating tactics. Maher highlighted the budget being touted by the progressive caucus in the House, which, like Ryan's budget, reduces the deficit by a couple trillion dollars, only through different ways like increased taxation on the super-rich.
Davis quipped, "The electorate elects Democrats because they like these programs, and then they elect Republicans so they don't have to pay for them." Maddow shot back by saying Ryan's budget basically takes care of the rich while calculating that the poor don't really need access to affordable health care. However, Maher did go out of his way to say that even he finds taxes on the wealthy in California to be ridiculous.
Bernstein and Davis got into a back-and-forth over the specifics of both sides' budgets, with Bernstein pointing out that the Ryan budget does not touch defense. Maher was amazed that Ryan goes so far as to call for increased defense spending. Maddow said that Republicans can't seriously call themselves fiscally responsible if they're going to push something like that.
Watch the video below via HBO:
—–
Follow Josh Feldman on Twitter: @feldmaniac
Have a tip we should know? tips@mediaite.com
Josh Feldman - Senior Editor