Maher And Guests Tear Into Obama For 'Lack Of Leadership,' Indulge In Bush Library-Bashing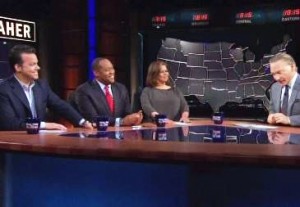 Bill Maher tonight targeted two presidents in the first part of the panel discussion. Congress made an addendum to the sequestration cuts that would prevent flight delays, and Maher was astounded that President Obama would simply go along with this government nitpicking. But it wasn't just Obama that garnred Maher's ire, but George W. Bush for rewriting history in his presidential library.
RELATED: Bill Maher And Panel Take On Drones: Obama's A 'Swell Guy,' But He's Basically Just Like Bush
Maher recalled the history of the sequester and how it cut everything from Hurricane Sandy relief to the military to education, and the one thing Congress has acted on is flight delays. Maher mocked this decisive action as carving out an exception just so members of Congress can "go home on time."
Panelist John Avlon reminded Maher the whole point of sequestration was to create . But what Maher wanted to know was why Obama signed it in the first place, instead of trying to make a deal with Congress to get them to also act on another devastating sequestration cut. Robert Traynham pointed out that airlines were concerned about losing money, but agreed that there was a "lack of leadership from the White House" on this issue.
Maher then pivoted to the Bush library, and after expressing outrage at the whole idea of taxpayers funding the maintenance of a presidential library, he brought up the interactive "Decision Points" station in the library. The station poses questions to users about what they would do in situations like the Iraq War. Mahr read one of the questions to make the point that Bush is trying to rewrite history and attack retrospective strawmen.
Actress Anna Deavere Smith reflected on the five living presidents gathering together, remarking that the fact they never really criticize each other publicly makes them some sort of "tribe." Maher also took a Republican congressman to task for trying to claim that Bush had a better record on terrorism than Obama does. Avlon commented, "Hyperpartisanship makes you stupid."
Watch the video below:
—–
Follow Josh Feldman on Twitter: @feldmaniac
Have a tip we should know? tips@mediaite.com
Josh Feldman - Senior Editor