McCain to Fox & Friends: Why Is Obama Telling Assad What's Going to be Attacked?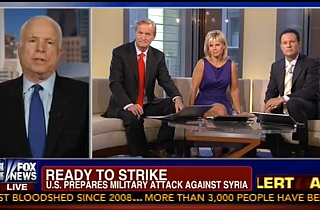 On Wednesday, Sen. John McCain (R-AZ) appeared on Fox & Friends and sharply criticized President Barack Obama's strategy in preparing for an attack on Syria in response to that country's repeated use of chemical weapons. McCain said that Obama's decision to telegraph the timing and targets of coming strikes makes little military sense. Furthermore, not removing Syria's Bashar al-Assad from power, McCain said, will haunt the United States.

McCain began by saying that the White House made a mistake in not pursuing a punitive strategy with Syria after they first used chemical weapons when Obama had declared that a "red line" for the United States. "He crossed that red line and I think he was then encouraged to do more since he was not held to account for his previous breaches," McCain said of Assad.
RELATED: MSNBC Guest: Unlikely Syrian Gov't Even Used Chemical Weapons
He went on to criticize the president for broadcasting his military strategy via leaks in the press.
"All of these leaks, when strikes are going to take place, what's going to be used," McCain said with exasperation. "If I were Bashar al-Assad, I think I would declare tomorrow a snow day and keep everything from work."
"This is crazy," McCain added. "These leaks are just crazy."
Asked about some of the Islamist elements in the Syrian opposition, McCain agreed that the rebels did have some extremist elements. However, he pressed back strongly against the suggestion that Syria's rebel forces were linked with Al Qaeda.
"Look, I met these people," McCain said. "I went into Syria. I know general [Salem] Idris. He's not a radical, nor are the people that work for him."
McCain concluded by saying that he believed that the War Powers Act was "murky" on whether the president needs to seeks Congressional consent to strike Syria. He said, however, that Obama should be consulting with Congress before taking action.
Watch the clip below via Fox News Channel:
—
> >Follow Noah Rothman (@NoahCRothman) on Twitter
Have a tip we should know? tips@mediaite.com