Mediaite Historical Society Presents: Jon Stewart Gives Ron Paul 'Debate Zingers' In 2007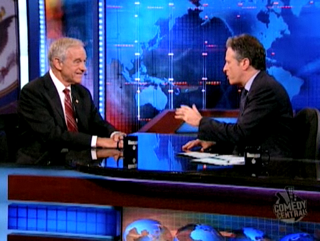 Here at Mediaite, we believe we have a responsibility of passing down our colorful history to the next generation. We do it for the children. So as we approach the second anniversary of our founding, we will be regularly taking a look back at the moments that made us laugh, cry, and throw things at our television set– but probably just made us roll our eyes at the time. Herein is the tenth installment of Mediaite Historical Society Presents:
To many in the political world, it came as somewhat of a surprise last Monday when Jon Stewart dedicated an entire segment of his program to making the case for Rep. Ron Paul as a serious candidate, but it turns out the two have a history. The Congressman has been a national figure since his initial Presidential run as a libertarian in 1988, but it wasn't really until his first Republican presidential run two decades later that he made a splash in the headlines. As part of his tour, he was a guest on the Daily Show, and charmed the audience with his anti-war talk while admitting to Stewart without shame that he would abolish "a lot of our government."
Stewart joked with Rep. Paul that he was a little too consistent to have a chance in the election: "you appear to have consistent principled integrity, and Americans don't usually go for that," which the candidate was fairly receptive to, joking back, "I've even suggested we follow the Constitution!" He also argued answered, simply, "yes," to whether he would take out "a lot of our government," but argued that he trusted the free market without trusting corporations: "there's a difference between corporations that benefit from government largess– that's corporatism, and that's evil." He then leaned in and audibly whispered to Stewart, "you know, Halliburton and all that stuff." "I've heard things," Stewart replied, amused.
Stewart then reminded Rep. Paul that he had a Republican primary debate coming up, and Rep. Paul didn't say a mean word about any of his opponents, even Mitt Romney. To that end, Stewart decided to give Rep. Paul a hand with some punchlines to try, free of charge, at the debate– lines like: "Hey Rudy Giuliani, if you love the War on Terror so much, why don't you marry it? Oh wait, you'd probably just divorce it a couple of years later."
The clip via Comedy Central below:

Have a tip we should know? tips@mediaite.com