Mediaite's Tommy Christopher Defends Priorities USA Anti-Romney Ad On The Young Turks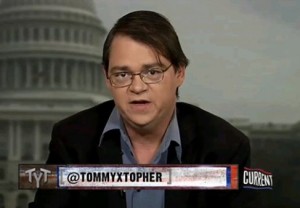 Mediaite's Tommy Christopher appeared on Current's The Young Turks earlier today, and discussed the ad released by the pro-Obama Super PAC Priorities USA insinuating that Mitt Romney's business dealings resulted in the death of a steelworker's wife. Christopher defended the fairness of the ad and pointed to Republican policy on health care, asking if "you want to live in a country where people have to almost die before they go to the hospital."
RELATED: CNN Fact Checks Priorities USA Ad Blaming Mitt Romney For Woman's Death
Cenk Uygur asked if this ad is fair because Romney worked in private equity, where "their job was to buy and sell these companies, then shut them down." Christopher argued that the "heavy debt load" Bain Capital put on the plant hurt it to the point that one can fairly say Romney held some responsibility.
He said that the steelworker's wife "would have stopped going to the doctor" because they likely could not afford it, and made a broader point about conservative attitudes towards health care.
You hear Republicans talk about it all the time, "well, you can get free health care at the emergency room." But no, it's not free. You go to the emergency room and they will try and collect money from you. They will take your wages, take your house. So people don't go unless they're about to die which is exactly what happened here. The bigger issue here is, do you want to live in a country where people have to almost die before they go to the hospital?
Uygur concluded the segment by saying the ad is completely fair because Romney and his colleagues at Bain shut down companies without caring about what happens to the employees.
So if you do that as a matter of course, that's your business model and then you don't give a damn that those people lose their pensions, lose their jobs, lose their health insurance, well, then you should get ads like this, because that's exactly what you did, and this is your reckoning.
Watch the video below, courtesy of Current TV:
Have a tip we should know? tips@mediaite.com
Josh Feldman - Senior Editor