Megyn Kelly Laughs at Dinesh D'Souza: So You're Saying America Is a 'Child Molester'?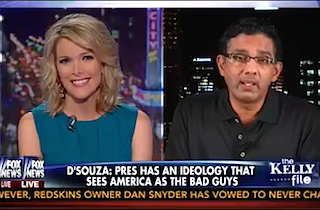 Conservative filmmaker and activist Dinesh D'Souza appeared on Fox News' The Kelly File Monday night, and his criticisms of President Barack Obama appeared to leave host Megyn Kelly slightly baffled. At one point, D'Souza used an elaborate analogy to explain that Obama views the United States as his child molester father, a point at which Kelly could not help but laugh.
D'Souza, who was promoting his new book, America: Imagine a World without Her
, began by telling Kelly what he believed Obama set out to "change" about this country when he first became president.
As D'Souza sees it, Obama comes from a generation that views America as "a force for evil." He did not mention that both he and the president were born in 1961. "You can say this group believes in American Exceptionalism, but instead of believing that we're exceptionally good, they believe we're exceptionally evil," he added.
"It sounds like you're accusing him of being almost anti-American," Kelly said later. "If he were anti-American, if he didn't love his country, why would he want to be president of it?"
This led to D'Souza's bizarre analogy:
"If I was in a family and I believed my dad was some kind of a serial killer or a child molester, I would still love him. He would be part of my family, but I'd do everything I could to prevent him from doing evil actions.

I would think that would be good for the world and for my dad. So with Obama, he believes he's doing the world a favor and America a favor by controlling this rogue elephant that is the United States."
"So America is the child molester in this scenario?" Kelly asked as she started to laugh. "I'm just trying to follow, Dinesh. I think we may have jumped off the deep end."
Watch video below, via Fox News:
[Photo via screengrab]
— —
>> Follow Matt Wilstein (@TheMattWilstein) on Twitter
Have a tip we should know? [email protected]