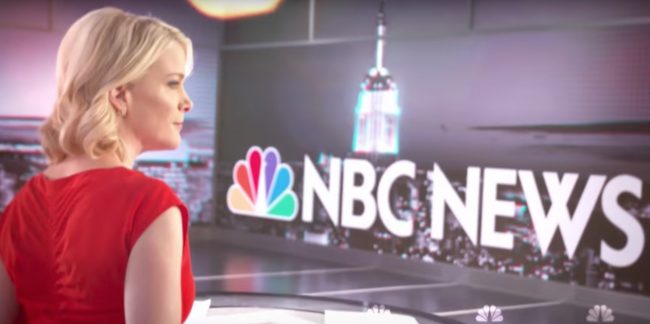 It is not unfair to say that Megyn Kelly has had a rough start to her career at NBC. Both with her Sunday night news magazine program, and her new daytime hour at 9 a.m., reviews have been mixed at best. But a close examination of what has gone wrong suggests that the issues may not even be with Kelly herself — a proven television star with a solid reputation and brand name recognition — but with some questionable decisions made by the programming, marketing and communications executives ostensibly there to help her.
But first, how did we get here?
If there was a break out media star during the 2016 General Election, it was Megyn Kelly. Yes, she had been stalwart for Fox News for many years before, but given her tete-a-tete with then-candidate Donald Trump, she truly became a household name, ostensibly worth millions more than what she was earning on her then-expiring contract at the time. So it was totally fair for her to test the market and end up in the comfortable confines of NBC, which broke the bank when it signed her for a reported 15 plus million dollars and gave her TWO of her own shows.
Kelly is a tough interviewer who litigates with, and occasionally at, her guests in a uniquely balanced manner of warmth and skepticism. Which made her a PERFECT fit at the 9 p.m. hour between Bill O'Reilly and Sean Hannity on Fox News and a reliable anchor for straight news events and debate moderating.
After taking a respite from the non-stop media cycle, Kelly was paired with the highly regarded and seasoned veteran showrunner Liz Cole, who helped turn Dateline into the money-making franchise it is today. But the show got off to a poor start publicly due to some questionable marketing decisions in promoting her big interview get, InfoWars impresario and conspiracy theorist Alex Jones.
There was a dust-up in the booking of this interview as Jones famously questioned if the Sandy Hook massacre was real, or a staged event "false flag." He has also peddled crazy theories that range from the completely implausible PizzaGage pedophile scandal, to the laughably absurd "80% Pig, 80% Gorilla Humanoids." Not a traditional TV booking, but Kelly and her show producers rightfully defended the segment because Jones has had President Trump's attention. As such, his insights, and defense of his "on screen character," are newsworthy.
Unfortunately for Kelly, the marketing team promoting this controversial show first released an image of a sunglasses wearing Kelly and Jones smiling and palling around in a car ahead of their interview. Suddenly, the segment looked less like a hard-hitting calling-out on the carpet (for which Kelly is famous) and instead soft-focus profile. This stirred up a ton of controversy, except that Kelly did hold Jones' feet to the fire in the segment that finally made air — but shockingly, this translated into remarkably disappointing ratings. The show continued to languish from there (despite some very good interviews), but most importantly Kelly's brand had been tarnished through no fault of her own.
Then there was the troubled launch of Kelly's new dayside program.
First of all, television history is littered with failed daytime talk show efforts. The list of personalities who tried — and failed — to translate their charm to this unique format includes game show hosts (Pat Sajak), cable news anchors (Anderson Cooper) and basketball legends (Magic Johnson.) Even Katie Couric and Meredith Vieira in the news space. For some odd reason, television success in one format often leads individuals and T.V. executives to develop the hubris to think they can tackle any format. Which, given the vast number of failed talk shows, proves not to be true.
Viewers of Kelly's Fox Broadcast special saw that while she provides a comfortable visage in a less challenging format, asking softball questions may not be her strongest suit. This isn't to suggest she doesn't have range, because she does. But this would be like signing the best big man in the NBA and having him only play point guard. No one wins.
But taking the 9 a.m. of the Today show seemed more promising, since NBC's morning program has always done a great job of finding the right balance of news-light, entertainment, news-you-can-use and, yes, occasionally politics. Perhaps this 9 a.m. hour with Megyn Kelly could play to her strength of experience and range?
Alas, that may not come to be. Kelly very clearly said that her days in the "vitriolic stew" were in her rear view mirror and that her morning show would not feature politics. The old Megyn Kelly well-versed in news and political issues was gone, and we'd be seeing the mother of three who just wants to hang. Huh.
Mediaite's John Ziegler pointed out the odd decision (in a fairly unforgiving manner with which I don't wholly agree) but it's true that paying Megyn Kelly many millions a year based on her very successful run interrogating news and politics figures, then having her talk to the cast of Will and Grace — and asking a fan about his decision to be gay? — is not (yet) a winning formula.
Which brings me to the biggest flaw of all — the press relations decisions. In advance of Megyn's dayside debut, someone thought it a great idea to have her speak with, among others, Elle magazine. One can imagine the communications team was so thrilled to book Elle magazine that they overlooked the vetting of the reporter who interviewed her (ignoring that she had previously written pretty tough copy on Fox News and social issues, where Kelly has serious vulnerabilities.) A better decision would have been to hold off on this Elle interview until the show was up and running.
The same drill happened in June when NBC's communications team provided Don Kaplan of the Daily News an interview with her and he had a field day with most of it, shredding her for some of her more controversial moments at Fox News (Black Santa comes to mind.) The Daily News is often considered to voice a more progressive point of view, and as a network communications veteran told Mediaite: "you stay away when Don Kaplan asks to interview" someone who has spent 13 years on Fox News.
NBC is not dealing with Hoda or Savannah here. Kelly comes loaded with baggage and controversy for a broadcast network and for reporters with political agendas. That said, signing her to NBC was a very smart move for NBC News chief Andy Lack. The way that she has been used thus far, however, remains a topic worthy of debate.
It's fairly well known that Lack didn't watch her closely on FNC before the end of the election season…when some insiders saw her as auditioning for another job and going as left as she could go on FNC. One had to wonder how well he understands the new media landscape, and he probably hired her because it was a coup to get her after 18 months of her negotiating with just about every network. But he seems to have no clue what to do with her or how to promote her talents.
Kelly made her name by discussing politics. And however distasteful our highly partisan times may be to some, we are living in a time when news and politics are the thing with which many are obsessed. Kelly's background and experienced savvy make her uniquely qualified to be a transcending voice of political reason in a refreshingly unifying manner. So why are NBC programming executives misusing her talents so dramatically?
The wind blows a little harder at the top of the totem pole, and when you make the big bucks you expect to catch some arrows. And if Megyn Kelly has proven anything it's that she is tough as nails and can roll with the punches. She's also whip smart and confident to know that her time at NBC is not a sprint, but a marathon. As CNN President Jeff Zucker said of Kelly's new program back in June, (and I am paraphrasing here) if we judged every new show after just a few episodes, nothing would last more than a few weeks. So this story isn't over yet for Kelly and NBC.
But to succeed she is going to need a better team around her because the wolves are circling and she isn't getting any help in keeping them at bay.
This is an opinion piece. The views expressed in this article are those of just the author.