Melissa Harris-Perry: Romney Will Be Remembered As A 'Speed Bump In History'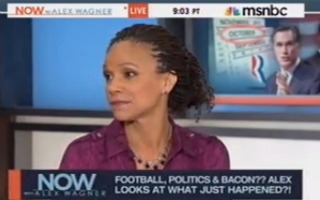 MSNBC host Melissa Harris-Perry made an appearance on Now on Friday where she weighed in on the flood of early post-mortems coming out of Mitt Romney's presidential campaign with more than a month left to go in the election cycle. Harris-Perry said that, after Romney loses, he will not be able to retain political influence in the way that Sen. John McCain (R-AZ) salvaged his political position after losing in 2008. She said that Romney will recede into posterity and be looked back on as a "speed bump in history."

Guest host Ari Melber read a portion of a widely circulated Politico report on Friday in which an unnamed official close to Mitt Romney said that the GOP presidential nominee is a bad candidate and is "naturally an executive."
He asked BuzzFeed Editor Ben Smith for his insights on Romney's campaigning. "When was the last time that Governor Mitt Romney made a speech, or did an event or otherwise made some sort of news that had an impact on this race," Melber asked.
"I don't know. It's been a while," Smith replied. "Every single day, he's losing it day by day in a, kind of, new and creative method." He said it should be troubling for the Mitt Romney that his staffers are beginning to leak to the press in order to salvage their reputations this far out from Election Day.
Harris-Perry said that the future looks bleak for Romney if he loses, as compared with candidate who have lost in the past. "There actual is extra credit for losing creatively if you are a current office holder," said Harris-Perry.
"If you are a senator or a governor and you're going to go back to that job, then in fact there are ways you can lose and still retain your position – for example, as McCain does as a particular kind of voice within the context of the Senate," Harris-Perry continued. "When you are, as Romney said multiple times in the primary, an unemployed guy, then what happens is you simply become, sort of, a speed bump in history."
Watch the clip below via MSNBC:
> >Follow Noah Rothman (@Noah_C_Rothman) on Twitter
Have a tip we should know? tips@mediaite.com