Michael Moore Trashes CNN's Hurricane Sandy Coverage On Piers Morgan Tonight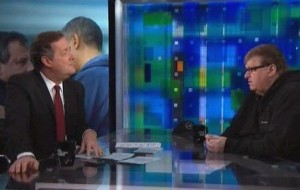 Michael Moore appeared on CNN tonight to talk about Hurricane Sandy, but a fair amount of the interview was squarely focused on the media coverage of the hurricane and the practice of networks like CNN putting reporters out in the middle of the storm. Moore questioned why such a practice is newsworthy in the slightest, with Piers Morgan defending CNN's coverage of the storm and the decision to put reporters out in the middle of the disaster.
RELATED: CNN Has Banned The Term 'Frankenstorm' From Its Hurricane Sandy Coverage
Moore said his neighborhood in New York did not get blacked out, and recalled how similar the experience was to Hurricane Katrina, saying no one has fully realized the scope of the storm yet. Moore then brought up the media coverage of the hurricane, saying that people don't want "reporters standing in waist-high water" to show people how bad it looks, they want "more real reporting [and] real news" on the hurricane.
Morgan rebutted Moore's criticism, arguing that such reporting helps people truly understand the breadth of the devastation and may help people think twice about going outside. Morgan specifically brought up CNN's Ali Velshi, and Moore admitted he watched CNN's reporting. He said as he watched, he asked himself, "Why is CNN trying to kill Ali Velshi?"
Morgan insisted what Velshi was doing was depicting a "dramatic image that fully tells the story" to convey the danger of the situation around him, and asked Moore if such coverage would be worth it if it saved at least one life. Moore said there are a number of other ways news networks could help save lives. He said networks like CNN need to get out important information to viewers more immediately, and found it "shocking" that there was little coverage on CNN of a part of Queens that was on fire, as it was happening.
Following a commercial break, Morgan corrected Moore and said that CNN was one of the first networks to actually report on the fire. Moore dismissed the criticism, saying it came two hours after the fire broke out, and went back to questioning the newsworthiness of having a reporter in the middle of a storm. Morgan scolded Moore for being "cynical" about the coverage, and defended CNN's coverage of the hurricane overall, touting that the network has been reporting news more immediately than other networks.
Watch the video below, courtesy of CNN:
Have a tip we should know? tips@mediaite.com
Josh Feldman - Senior Editor