Rep. Bachmann Accuses Newt Gingrich Of Lobbying And 'Influence-Peddling' In Washington
Rep. Bachmann Accuses Newt Gingrich Of Lobbying And 'Influence-Peddling'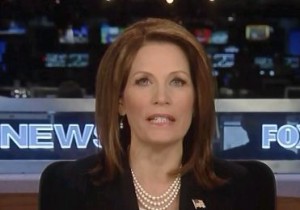 Michele Bachmann and Newt Gingrich have been engaging in a war of words over their respective stances on immigration, with Bachmann accusing Gingrich of supporting an amnesty plan. Gingrich recently fired back by comparing Bachmann to a student who, as a teacher, "you feel sorry is so factually challenged." Chris Wallace played the clip for Bachmann on Fox News Sunday today and had her respond to it.
Bachmann argued that Gingrich was "memory-challenged" because of his support for both George W. Bush's immigration reform plan and the DREAM Act, both of which, Bachmann argues, provide amnesty for illegal immigrants. She claimed to have the highest ranking on immigration (though she failed to attribute the rankings), while Gingrich had the lowest.
RELATED: Michele Bachmann Criticizes Gingrich's Immigration Policy On Fox & Friends, Gingrich Responds
Wallace also confronted Bachmann on her attacks on Gingrich due to his ties with Freddie Mac. Gingrich claims he never did any lobbying, and of all the candidates in the race, he is the most qualified to shake things up in Washington because he served there for many years. Bachmann, naturally, disagreed.
"It's implausible, Chris, because he's been a part of Washington, DC for over 30 years. He's as establishment as you get. His address is located on the Rodeo Drive of Washington, which is K street. His organizations have taken in over a hundred million dollars just this year alone to peddle influence. You don't have to be a lobbyist within the letter of the law in order to influence the outcome of legislation."
She insisted the race needs someone who's going to "fight Washington" instead of cozying up to special interests and lobbyists. Wallace asked Bachmann to expand upon her accusation that Gingrich has helped to influence legislation. Bachmann did not provide any specific examples, but merely gave a broad outline of Gingrich receiving money from questionable sources then speaking to members of Congress about changing the language in certain bills.
RELATED: Rachel Maddow: Newt Gingrich Running Scams Akin To 'A Nigerian Prince E-Mail'
Watch the video below, courtesy of Fox News:
Have a tip we should know? tips@mediaite.com
Josh Feldman - Senior Editor