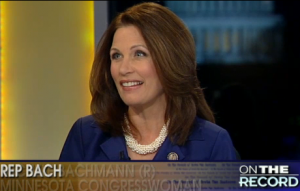 Last night on Fox News, Representative Michele Bachmann stopped by to talk with Greta van Susteren about the debt crisis and to share her charts demonstrating how much money President Obama spent in the past two years. However, Greta was eager to get Bachmann's comments on the bubbling up rumors that the Congresswoman is seriously considering a run at the White House in 2012.
Bachmann played it coy, refusing to announce definitive intentions, yet made it known she wants her name to continue to be mentioned:
I'm very committed to doing whatever I can to make sure that we don't have a second term for President Obama. So I'm going to add my voice to that conversation in the next two years. . . . [I]t's not about my personal ambition. But it is about making sure that people know what the issues are, what the principles are, because I think a year from now – I mean, can you imagine two years of speculating about who the nominee will be? . . . It is boring.
Boring? Speak for yourself! I think it would be much harder to imagine two years of not speculating about who the nominee will be. Some Republicans will have to announce their candidacy soon, although if you're betting on who might be first out of the gate, the safe money is definitely not on Bachmann. Most likely her decision requires waiting first to see what fellow Tea Party "mama grizzly" Sarah Palin intends to do.
Watch the clip from Fox News below:

Have a tip we should know? tips@mediaite.com