Michelle Malkin: Hillary Clinton's 'Jenga Tower Of Lies' On Benghazi Is 'Crumbling Down'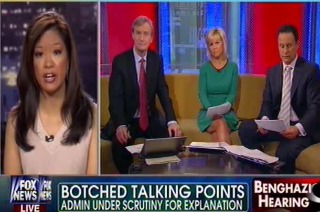 Conservative columnist Michelle Malkin said on Thursday that Wednesday's Congressional hearings into the Benghazi attack had shown how broadly the members of President Barack Obama's administration mislead the American people in the wake of that terrorist event. Malkin called the administration "thugs" for attempting to destroy the careers and characters of the whistleblowers before they came forward. She added that the "Jenga tower of lies" former Sec. Hillary Clinton had built up following the Benghazi attack were "crumbling down."

"I hope the sobriety with which those three whistleblowers testified should blunt a lot of what's coming," Malkin began, "the smear campaign against these whistleblowers, because this is the Chicago way."
Steve Doocy noted that Gregory Hicks, the deputy chief of mission at the U.S. Embassy in Libya in 2012, testified that he thought the attack in Benghazi was an act of terrorism right away. However, Doocy said, U.N. Amb. Susan Rice and Clinton linked the attack to a YouTube video in the weeks immediately following the attack.
"This Jenga tower of lies that Hillary built, particularly in that January hearing, is all coming crumbling down," Malkin declared. "She's in trouble, and so are her damage control duet of Beth Jones and Cheryl Mills."
Malkin said that Clinton is implicated directly in misleading Congress about what she knew about Benghazi because, when she testified before a Senate committee in January, she never mentioned speaking to Hicks.
RELATED: WATCH: Diplomat Gregory Hicks Describes Night Of Benghazi Attack In Excruciating Detail
Gretchen Carlson asked Malkin if she thought the erroneous messaging on Benghazi originated with Clinton or if it came from the White House.
"Ultimately, it is the man who refused to watch the hearings yesterday because, as his press secretary said, he doesn't bother to watch TV in the afternoon – couldn't deign to do that," Malkin said. "The question, I think politically, is: will he get away with it?"
"These people lied through their teeth before the election and they still got away with it," she asserted.
Malkin and Brian Kilmeade observed and the whistleblowers' careers had suffered as a result of their decision to come forward. "This is how these thugs roll," Malkin added, "and it's about time that the American people stand by people who are telling the truth."
Watch the segment below via Fox News Channel:
> >Follow Noah Rothman (@NoahCRothman) on Twitter
Have a tip we should know? [email protected]