Michelle Malkin: 'Resentment' Between House GOP Leaders 'Boiling Over' Prevented Sandy Relief Bill Vote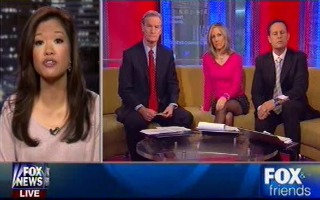 Conservative columnist Michelle Malkin joined the crew of Fox & Friends on Thursday where she defended House Republicans and Speaker John Boehner (R-OH) in particularly, for not bringing what she described as a pork-laden Hurricane Sandy relief bill to the floor of the House for a vote on Wednesday. She said that the real story behind the Sandy relief bill not being put to a vote that fight between two members of the House Republican leadership got into a fight over the fiscal cliff. She said that it was their mutual "resentment" that prevented a vote on that bill.

RELATED: After Onslaught Of Public Criticism, Boehner Reschedules Sandy Relief Vote For Friday
"There is a lot of drama and kabuki and theatrics going on on Capitol Hill right now, I think it's ridiculous to fully blame Boehner for the grid lock over this bill," Malkin said.
"The context for the spat doesn't bode well of the Republican leadership," Malkin added. She said that, while there are fiscal conservatives who opposed the Sandy bill because of all the pork the Senate inserted into the final bill, the reason this bill didn't head to the floor for a vote was because of personal fight between the Speaker and Majority Leader Rep. Eric Cantor (R-VA).
"The context for this battle was, apparently, a snit fit between Boehner and Cantor over how the fiscal cliff vote went down," Malkin said. She said that the Sandy bill was, in fact, not put to the floor for a vote on Wednesday because of the "resentment between those two boiling over."
Watch the clip below via Fox News Channel:
> >Follow Noah Rothman (@Noah_C_Rothman) on Twitter
Have a tip we should know? [email protected]