Mika Says ABC 'Lacks Judgment' for Stephanopoulos Hire; She Should Look Inward at MSNBC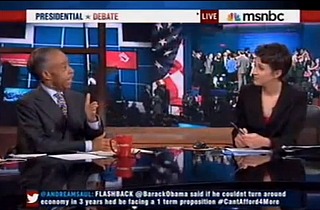 As we reported earlier, today on Morning Joe, Mika Brzezinski called out the "lack of judgment" at ABC News for hiring a former Clinton adviser to cover serious political news that undoubtedly includes a wealth of stories about the former First Family.
Reacting to controversy surrounding This Week moderator George Stephanopoulos' failure to disclose his $75,000 in donations to the Clinton Foundation, Brzezinski said: "He worked on the Clinton campaign, he worked tirelessly to elect Bill Clinton. He served under Bill Clinton. Who would be so surprised that he has ties to the Clintons? And if anything, that seems to me to be a lack of judgment on the people who are hiring him to think that he can just erase those from his brain. Biases exist."
It was an interesting charge on Brzezinski's part; one that certainly contains some truth: With Hillary Clinton running for president, Stephanopoulos was inevitably going to run into an uncomfortable situation like last week's. ABC's political leads likely understand this, and yet here we are. Stephanopoulos failed to do the most fundamental thing: Disclose those ties while defending the Clintons, on-air, from charges leveled by Clinton Cash author Peter Schweizer. His ability to cover the campaign anywhere near "objectively" will constantly be questioned.
But what's also notable about Brzezinski's words is this: As a cable news network looking to refocus on news, what does MSNBC plan to do for its coverage of the presidential primaries?
Surely they can't expect to get by with the same election/primary anchoring team from 2012: Chris Matthews, Rachel Maddow, Al Sharpton, Ed Schultz, etc.
Yes, none of those anchors have explicit political ties to disclose (as far as we know), but each of them pose a problem: Matthews (of "leg tingle" fame) has become something of a Democratic pitbull over the past seven years; his on-air meltdown following President Barack Obama's poor 2012 debate performance sealed his reputation as such. And you can bet that when it comes to aiding a Democratic presidential candidate in 2016, Matthews will talk the opposite of his past comments that Hillary Clinton only got where she was because "her husband messed around." (Also, remember: Matthews was a Democratic operative for many years, working as staffer for four different congressmen, speechwriter under President Jimmy Carter, chief of staff for House Speaker Tip O'Neill, and was a failed U.S. House candidate.)
Maddow and Sharpton are Maddow and Sharpton. Having them continue to anchor primetime primary debate coverage would be like Fox News having Sean Hannity hold down the fort. And Schultz? The blustery union activist has made no bones about his political leanings. Regardless of whether his favorites in Elizabeth Warren and Bernie Sanders get the party nod, Schultz will be firmly entrenched in rooting for a Democratic ticket.
And so, perhaps allowing that team to continue leading MSNBC's election coverage would also constitute, well… a "lack of judgment."
— —
>> Follow Andrew Kirell (@AndrewKirell) on Twitter
Have a tip we should know? tips@mediaite.com