Mike Huckabee: 'How Is It Possible To Believe The President' On Debt Urgency When He's Out Fundraising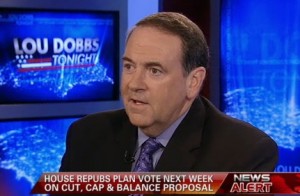 Mike Huckabee appeared with Lou Dobbs and expressed such frustration with President Obama that Dobbs appropriately wondered whether or not Huckabee was having second thoughts about deciding not to run for President? Although Huckabee threw cold water on the prospect of re-opening that door, he didn't hesitate to take both Obama and Congress to task for saying one thing (that without a debt deal there will be catastrophic results) and yet acting completely different.
Huckabee particularly doubted the sincerity of Obama's statements:
"How is it possible for us to believe the President when on one hand he says 'this is so urgent we have to absolutely stay here until we get it done' and then he's out making fundraising speeches, he's doing interviews with local television stations, he's taking the weekend off . . . maybe he's got a golf game or something."
And Huckabee was disappointed with members of both parties in Congress since if "[Treasury Secretary Tim] Geithner is out there saying it's Armageddon" then why is Congress taking time to play softball? "If a meteor is heading toward Earth and about to crash, do you still keep the softball game on the docket," Huckabee comically asked. Dobbs agreed, saying that it's completely jarring for a potential economic Armageddon to occur August 2nd, while on August 3rd Obama urges people to come celebrate his birthday in Chicago and write a huge check for his campaign.
Anyone familiar with pulling all-nighters to finish an important assignment can certainly sympathize with Huckabee's sentiment here. If reaching a deal truly is urgent, then why don't both sides get in a locked room, stay up all night, and not be allowed to leave until a solution is reached? Although maybe that's still the plan for the final few days before the deadline?
Watch the clip from Fox Business below:

Have a tip we should know? tips@mediaite.com