Mike Huckabee: Rick Perry Made A 'Tactical Mistake' By Announcing On Day Of Iowa Straw Poll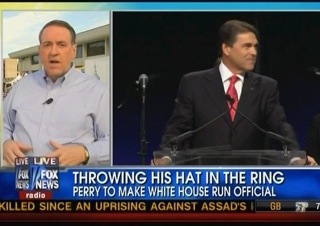 Mike Huckabee may not be running for President this time around, but he was up bright and early in Iowa this morning for his appearance at the Ames Straw Poll today. Chatting with the cast of Fox & Friends, Huckabee weighed in on the other Republican event of the day: the RedState gather, where Texas Gov. Rick Perry is expected to announce his candidacy. "That's a tactical mistake," Huckabee argued, as Perry is now turning the entire state of Iowa against him.
Huckabee noted it was a big day for Iowans, and while many disagreed with him, "I think it's a tactical mistake to make the announcement on the day when the political center of the universe is in Ames, Iowa." He explained that Gov. Perry taking the spotlight away is "going to already alienate a lot of people in Iowa, and he has, by sort of raining on the parade." Given the amount of pride Huckabee sees in the people that put together the straw poll, "it breeds a lot of resentment" to rain on the parade.
He also had a bit of advice for Gov. Perry on announcing his run: "you candidacy is at its peak just before you get in," because people don't go on the attack when you haven't announced yet. "The moment you step in, you go from the position of nice kitty to scat cat… you're getting shredded the day you walk into the blade of the fan."
The segment via Fox News below:

Have a tip we should know? tips@mediaite.com