Mitt Romney: 'We Would Be Signaling Our Doom' If GOP Nominee Is Not Decided Before Convention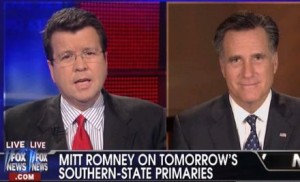 Even with a fair number of primaries ahead, Mitt Romney is trying to make the case that dragging out the race any further is a mistake, and that the other candidates should end the race and get behind him so the party is better poised to take on President Obama in November. He took it one rhetorical step further on Neil Cavuto's show today by saying the Republican party "would be signaling our doom" if the race ends in a brokered convention.
RELATED: When Michael Steele Reformed The Nomination Process, One Of His 'Goals' Was A Brokered Convention
Cavuto relayed to Romney that Rick Santorum believes he's further ahead in the delegate count than people would expect. Romney responded by saying he's just looking at the official numbers being put out by the Republican National Committee, but if Santorum wants to put out his own delegate count, that's fine. Referring to a memo sent out by the Santorum team that they could still snatch the nomination at the convention, Romney warned his rivals that such a strategy might end badly for the party as a whole.
"Look, if we go all the way to a convention, we would be signaling our doom in terms of replacing President Obama. We need to select someone to become our nominee, get that person nominated, and get focused on President Obama, and get him out of the White House."
Romney touted his victories in "important states" like Florida and Ohio. However, he did state that if Santorum "is able to pull off a miracle, so be it." But if Santorum and Newt Gingrich are going to keep dragging the campaign along, Romney asked "Could you imagine anything that would be a bigger gift to Barack Obama?"
When Cavuto asked Romney if he thinks winning either Mississippi or Alabama tomorrow is crucial to him winning the nomination, Romney just laughed it off. He admitted he likes his opponents, but stated that none of them have the resources to defeat the president in November.
RELATED: Donald Trump: GOP Candidates 'Disgraceful' By Staying In Race Instead Of Getting Behind Romney
Watch the video below, where Cavuto also asks Romney about VP choices, courtesy of Fox News:
Have a tip we should know? tips@mediaite.com
Josh Feldman - Senior Editor