MSNBC Hosts Maddow and Matthews Battle Over Whether Obama Delivered A Strong State Of The Union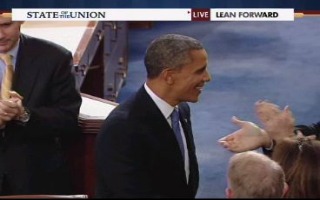 Following the conclusion of President Barack Obama's State of the Union Address, the hosts of MSNBC displayed a warm but measured reaction to the president's speech. While many of the themes he addressed were greeted enthusiastically by the assembled MSNBC hosts, they were not sure that Obama made a compelling case for a vision which could pass Congress and serve as his legacy.

RELATED: Thunderous Applause As President Obama Implores 'They Deserve A Vote' On Gun Measures At State Of The Union
"I don't know if he closed any kind of deal on immigration reform tonight," Chris Matthews said. He expressed frustration that the president didn't talk about a proposal that would have "teeth" and could actually reduce illegal immigration. When Rachel Maddow said that the president mentioned border security, Matthews called that "a Pat Buchanan solution." "I've never believed in border security," Matthews said. "It's about worker permits, it's about biometric ID cards, some way to stop illegal hiring — he never even mentioned it."
Maddow and Matthews debated the scope of the president's role in reducing illegal immigration, with Maddow saying Obama has presided over a negative illegal immigration rate. Matthews countered by saying that a recessed economy is not an immigration policy. "I don't think he made an offer to Republicans on immigration," Matthews said. "I don't want the issue, I want the solution.
Former Republican National Committee Chairman Michael Steele praised Obama's focus on jobs and the middle class. Steele also chided Republican members of Congress for not applauding more in places where he thought they should have.
MSNBC host Al Sharpton was pleased with the president's speech. He praised Obama's proposals regarding voting reform. "This sounds like pre-1994 South Africa," Sharpton said regarding the tale of an elderly woman in South Florida who stood in line for hours waiting to vote in the 2012 election.
Finally, Lawrence O'Donnell chimed in and said that the strength of Obama's speech was evident in the faces of Republicans who watched the speech. He said that Obama's asking for a vote for his proposals would have shocked the Founding Fathers which he insisted would have provided the president the courtesy of a vote in Congress for his priorities.
O'Donnell concluded by saying that Obama should have turned to Speaker John Boehner (R-OH) and asked him to explain in the moment why his gun control proposals could not get a vote. "Let him have the microphone," O'Donnell said. "He would have nothing to say."
Watch the clip below via MSNBC:
> >Follow Noah Rothman (@NoahCRothman) on Twitter
Have a tip we should know? tips@mediaite.com