MSNBC Panelists Tease Chris Matthews About Leg Thrills, Mic Goes Eerily Silent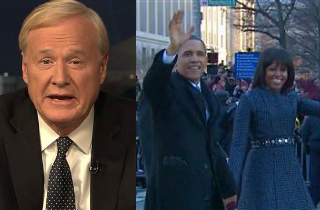 Everybody remembers MSNBC host Chris Matthews famous "thrill up my leg" remark after an Obama primary speech in 2008. In fact, the comment is so well-known that it's almost a job requirement here at Mediaite that you get references to the so-called "thrill heard 'round the world."
For nearly five years, that famous soundbite has justifiably been the butt of many jokes. And if you watched MSNBC's inaugural coverage on Monday, you might have come away thinking Matthews is not laughing.
As the MSNBC panel of Matthews, Martin Bashir, and Rep. Elijah Cummings (D-MD) shared their thoughts on the day's events, the latter two guests made a jokey reference to the "thrill" and then things got awkward.
-RELATED: Chris Matthews Goes On Obnoxious Rant Against 'Idiots' Who Vote Third Party Or Stay Home
Rep. Cummings had been talking about how as "the son of two former sharecroppers," he found comfort in the president's inaugural message of communities working together to help lift up the disadvantaged and poor in society. "I could really relate to that. As a matter of fact, it gave me chills and I don't usually get chills," the congressman said.
Bashir and Cummings then shared a laugh as the "chills" remark clearly reminded them of the infamous Matthews line about being enthralled with an Obama speech.
"There you go, Chris. Did you get any chills, Chris?" Bashir asked through his laughter. And then came a long pause, with some strange choking and coughing noises coming from Cummings.
Eventually Bashir cut through the silence and tried to corral the panel: "Sorry, Chris. Congressman Cummings was just saying that when the president referred to a little girl growing up in abject poverty, that having the idea, the possibility that she could make something of herself, he said it really gave him some chills. And he was very moved by that. What was most moving to you, Chris, about the president's speech?"
And then Matthews rejoined the conversation.
The funny thing is that anyone who listened to MSNBC's post-inaugural coverage heard Matthews repeatedly and unabashedly kneel before power in a way that was "thrill up my leg"-ish without outwardly saying so. Yes, most of the mainstream media was deferential and respectful on such a historic day, but Matthews' coverage bordered on fanboy levels of sycophancy. At one point, while his progressive colleagues extolled the aggressive nature of the president's speech and the many stabs he took at unnamed rivals, Matthews exhibited his trademark lack of self-awareness by disagreeing and declaring the president's speech to be "entirely nonpartisan." Sure.
So if it's true that Matthews gets this agitated by any reference to his infamous "thrill" line, we should take this clip as encouragement to never, ever stop joking about the thrill up his leg.
Watch below, via MSNBC:

[h/t Town Hall]
— —
>> Follow Andrew Kirell (@AndrewKirell) on Twitter
Have a tip we should know? tips@mediaite.com