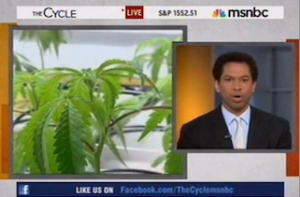 MSNBC's Touré rarely shares views with members of the GOP, but in his editorial that closed The Cycle on Monday, he discussed an issue that has some sympathetic supporters on the right. Taking a similar "libertarian approach" to the positions Sen. Rand Paul (R-KY) outlined on Fox News Sunday yesterday, Touré argued passionately against sending small-time marijuana users to prison.
"I think you should be able to smoke or drink responsibly and the government should not be in the business of having to police what we put in our bodies," Touré said. "I don't want people to go to prison and become lifelong felons saddled with all that entails, which can include losing the right to vote and being cut off from most jobs because they were caught smoking or possessing a little weed."
Noting that the "tide is slowly turning against the War on Drugs," he pointed out that even some prominent Republicans, like Paul and New Jersey Governor Chris Christie are now comfortable speaking out for more lenient marijuana policies.
He played the clip from Paul's Fox News Sunday interview, in which the senator says, "There are people in jail for 37, 50, 45 years for nonviolent crimes and that's a huge mistake. Our prisons are full of non-violent criminals." The program did conveniently omit the section where Paul said, "I think even marijuana is a bad thing to do. I think it takes away your incentive to work and show up and do the things that you should be doing."
But, nonetheless, Touré recognized the common ground, saying, "Indeed, Brother Paul. One of the leaders for the race for 2016 powerfully making the case about the bad effects for criminalizing young people for nonviolent marijuana offenses." Regarding's Paul's assertion that some of our recent presidents may not have made it as far as they did in life had they been arrested for admitted marijuana use, Touré asked, "who wants to choose a president from a list of guys who were young in the '60s and '70s, and yet so stiff and frumpy they never even tried the sticky-icky?"
Watch video below, via MSNBC:
—
>> Follow Matt Wilstein (@TheMattWilstein) on Twitter
Have a tip we should know? tips@mediaite.com