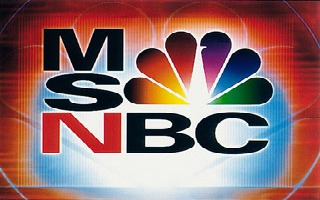 It has been a fateful year for the cable news network MSNBC. It seems every month, another host – or even the network itself – is forced to apologize for reporting a factual error or overstepping the bounds of responsible commentary.
Mormonism-Is-An-Invented-Religion-Gate
The most recent apology to come out of the cable network at 30 Rockefeller Plaza is The Last Word host Lawrence O'Donnell. On an April 3 segment, O'Donnell characterized the Church of Latter Day Saints as an "invented religion" and said that Mormonism was started by "a guy in upstate New York" who "got caught having sex with the maid and explained to his wife that God told him to do it."
That understandably offended some, and O'Donnell was forced to publically apologize on an April 11 broadcast. "I am truly sorry if I said something inaccurate about Joseph Smith," O'Donnell said. "I am happy to provide time on this show to a Church of Latter Day Saints spokesman to correct any inaccuracy."
But the apology parade only begins there. A quick trip into recent history reveals a troubling trend of apology-worthy offenses.
The Roberts Affair
MSNBC news broadcaster Thomas Roberts got himself into hot water recently when he broadcast a segment on a leaked memo authored by the National Organization for Marriage, which identified as a political strategy pitting African Americans who may be hostile to gay marriage, against same-sex marriage activists. Roberts booked a guest representing NOM to appear on his show, but when she ostensibly failed to show Roberts conducted a mock interview of her empty chair. The implication was that the NOM representative was simply too cowardly to appear and face the music.
The only problem with that segment was that the NOM representative did show up. A booking error on the part of MSNBC had her in the wrong studio at the time of the broadcast. Roberts was forced to take to his Twitter account to announce, "IT WAS OUR MISTAKE," and "our sincerest apologies."
The Second Roberts Affair
On March 4, Roberts was taken in by a satirical piece posted on Huffington Post in which a mock NOM boycott of Starbucks helped their stock price shoot up by $1.41. Roberts broadcast the satire as fact and was later forced to admit "we take issues of equality seriously, not as satire. It was my error." They take every issue of equality so seriously, in fact, that they cannot be bothered to scroll down to the disclaimer of satire on the site before becoming incensed enough broadcast this easily falsifiable story as news.
The Racist Edit Of George Zimmerman's 911 Call
On April 3, NBC News itself admitted to an "error" in their broadcast of a misleadingly edited 911 call made by George Zimmerman on the night he allegedly murdered Trayvon Martin. That call, which also aired on MSNBC, was edited to show Zimmerman offering the skin color of Martin unsolicited when in fact the dispatcher had asked for that information. While this admission does not necessarily constitute apology, the concession of an "error" will have to do.
Mitt Romney Is Racist
In December, 2011, MSNBC ran multiple reports based on a bloggers assertion that Mitt Romney's presidential campaign had adopted a slogan, "Keep America American" that was originally used by the Klu Klux Klan in the 1920s.
"So you may not hear Mitt Romney say 'Keep America American' anymore. That's because it was a central theme of the KKK in the 1920s, it was a rallying cry for the group's campaign of violence and intimidation against blacks, gays and Jews. The progressive blog AmericaBlog was the first to catch on to that," said Roberts during his dayside news program.
On December 14, 2011, Hardball host Chris Matthews delivered the mea culpa for the network. "During the 11AM hour on MSNBC," Matthews said, "we reported on a blog item that compared a phrase used by the Romney campaign to one used by the KKK in the 1920s. It was irresponsible and incendiary of us to do this and showed an appalling lack of judgment. We apologize to the Romney campaign." Matthews apology was reiterated by Rev. Al Sharpton on his program which immediately follows Hardball, saying that MSNBC "did the right thing" by apologizing to Romney.
Chuck Todd's Bad Morning
Also on December 14, NBC News Chief White House Correspondent Chuck Todd was caught alongside Meet the Press host David Gregory just before being called on to the set of Morning Joe delivering a one finger salute to the production staff just off camera. "The camera is always on. A lesson some of us never learn," Tweeted a chaste Todd. "My apologies. Am personally embarrassed. Was a joke with someone on the other side."
But perhaps the most egregious serial eventual-apologizer is Ed Schultz, anchor of the primetime weekday program The Ed Show. In the last year, Schultz has been suspended once and forced to apologize no less than three times.
"Rightwing Slut"
In May, 2011, Schultz was suspended briefly and forced to apologize to conservative radio host Laura Ingraham for calling her a "rightwing slut" on the air. He later called his own comments "vile" and offered Ingraham an apology which she accepted.
Rick Perry Is Racist
On August 15, 2011 Shultz aired an out-of-context clip of Texas Gov. Rick Perry describing the state of the nation as being darkened by "a black cloud." Perry was referring to the economy but Schultz did not air the original context of the clip and presented it as Perry talking about President Barack Obama – Obama, of course, being the black cloud. Schultz attempt to imply Perry was voicing a racist sentiment backfired and he later was forced to admit "we did not present the full context of those statements… It was a mistake and we regret the error." Rather than admit an unqualified apology, however, Schultz couched his admission of fault in an attack on his opponents by airing the full clip of Perry in context and making the same argument that Perry was, in fact, a latent racist.
Virginia's Republicans Are Nazis
On February 22, Ed Schultz's radio producer James Holm issued an apology for comparing the Republican members of Virginia's legislature to Nazis-era Dr. Joseph Mengele. The entire exchange between Schultz and his producer is too long and obsequious to reproduce here, but it falls more in the category of a "you were offended, so I apologize" apology while still maintaining that Republicans are Nazis.
Ed Schultz's Union Ties
There are plenty of apparent offenses for which Schultz has never apologized. He never apologized for calling Sen. Marco Rubio "not a true American," or saying the "Republican party stands for racism," or saying conservative commentators want "Obama to get shot," or for wondering aloud when discussing Sen. Joe Lieberman's (I-CT) lobbyist wife if "the word whore applies."
One apology that Schultz's critics are still holding out hope for is his admission that he should have disclosed the $190,000 in payments he received from the Communications Workers of America union. A disclosure would have prevented the appearance of a conflict of interest when this host helped man the picket lines alongside union members celebrating the successful referendum repealing Gov. John Kasich's curtailment of public sector union's collective bargaining rights or the recall elections of Wisconsin state senators.
Schultz has defended his union earnings, saying that he works for his payments by booking speaking gigs for the labor organization. He should not, however, be surprised then when his credibility on organized labor issues is called into question.
Give credit where its due. They do seem willing to apologize when their mistakes are caught. But in MSNBC's year of apologies, some would say its the offenses for which no apology was ever issued that are the most telling and instructive about the culture at play there.
Have a tip we should know? [email protected]