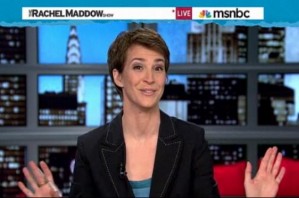 Presumptive GOP candidate for President in 2012 Mitt Romney has recently stepped down from the Board of Directors of Marriott Hotels. Perhaps coincidentally, the hotel chain recently announced plans to stop providing on-demand adult entertainment for their guests. Some have suggested the decision to forgo millions in revenue was not borne from the new digital age in which we now live, but rather because it's more politically expedient for Mr. Romney. Though the story has already been around for awhile, the specific way that Rachel Maddow reported this story was so unique and cheeky, it is worth another look.
Transcript of Maddow's commentary (emphasis mine):
The last time Mitt Romney ran for President, conservatives attacked him for not pushing Marriott to get rid of that darned porn. Since he was on their board and everything. Here for example in the Deseret News an editorial entitled "the nasty taint for porn." If you're running for president you don't want editorials about your nasty taint, let alone your nasty porn taint.

That criticism of Mr. Romney happened in 2007, the last time he ran for president. This year, problem solved, unless you want to want porn in your Marriott hotel room, in which case, your problems have just begun, and you can thank the Republican primary process for your taintlessness.
Maddow brings up an interesting point, though to be fair, one's" taint" is a very hard thing to define; existing somewhere between the spheres of reality and the mysterious, but very real, space where mudslinging happens. Simply put, a taint is very hard to see, at least without holding a mirror up to oneself.
One wonders just how bad Romney's taint truly is, or if Maddow and her producers are just unfairly obsessed with it. If Romney has any taint worth discussing, its likely to be divisive; seen by his conservative base as a glorious taint, not nasty at all as Maddow suggests.
Either way, this is probably not the last we've heard of Romney's taint, which some may see as a shocker.
Watch the brief video segment courtesy of MSNBC below:
Have a tip we should know? tips@mediaite.com