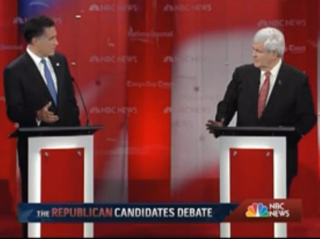 "Lord knows everyone knows each other by now," Brian Williams noted as the start of this first debate in Florida. And the debate did start off at a pace that felt absolutely glacial compared to the fireworks within the first minute of last Thursday's. But after a few warmup rounds, Mitt Romney started landing blows on Newt Gingrich's career at Freddie Mac as an "historian," and had him cornered until Gingrich piped up and asked, "What was the gross revenue of Bain while you were working there?"
Gingrich emphatically denied doing any lobbying when Williams brought up the issue, before Williams tossed the ball to Romney, asking Gingrich whether he had ever "peddled influence," vocabulary Romney used at the beginning of the debate. "There's a point in this process where it gets unnecessarily personal and nasty, and that's sad," Gingrich replied (Yes, this is the sort of debate where Freddie Mac is the "unnecessarily personal and nasty" topic). "I think it's pretty clear to say that I have never, ever gone and done any lobbying," he confirmed.
Since his name was spoken, Romney was allowed to jump in, and he called Gingrich's title at Freddie Mac "chief lobbyist," arguing that the company doesn't pay the millions Gingrich received "for you to be a historian." He also noted that Gingrich was speaking publicly in favor of government sponsored entities.
"As a business man, you know that the gross revenue of Bain was not your personal income," Gingrich corrected, suggesting that those millions weren't his personal salary, but rather, "my share annually was about $35,000 a year… based on my knowledge of history, particularly the history of Washington." He then flipped the question on its head: "What was the gross revenue of Bain at the time you were there?" Romney fell into the trap of actually answering the question, and mumbled a bit before responding, "very substantial, but I don't see how that's relevant." He finally got out by switching the topic to Gingrich supporting Medicare Part D.
"Let me be very clear, because I understand your technique– you used on McCain, you used on Huckabee, you use it consistently," Gingrich responded. "I have always publicly favored and openly advocated… Medicare Part D, it saves lives."
The segment via NBC below:

Have a tip we should know? tips@mediaite.com