Newt Gingrich Slams U.S. Apologies Over Quran Burning: 'Our Troops Get Killed, Nobody Apologizes'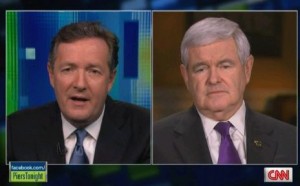 Newt Gingrich has come out in full force against the Obama administration's apologies to the Muslim world for an incident involving NATO forces burning a Quran. Apologies have been issued by President Obama, Defense Secretary Leon Panetta, other assorted members of the Obama administration, and U.S. commander John Allen, who is currently overseeing NATO forces in Afghanistan. Gingrich appeared on CNN today and told Piers Morgan that Afghanistan has its own apologies to make before the U.S. can reciprocate.
RELATED: MSNBC's Hardball Guest Tries To Explain Why Burning The Koran is Worse Than Burning The Bible
Morgan played the video of Allen's apology, and suggested to Gingrich that Obama was simply listening to his generals on the ground. Gingrich said that it's not clear whether Obama was listening to his generals or vice versa, but the point is they should not have done it. What really set Gingrich off was that the United States was apologizing profusely to Afghanistan for the burning of several copies of the Quran, but Afghanistan has issued no apology for the deaths of two U.S. soldiers at the hands of an Afghan soldier who was involved with the riots over the Quran burnings.
Gingrich stated Obama should demand such an apology from Hamid Karzai. He pointed to the burnings of churches in Africa and the Middle East, and said no one has apologized for them yet.
"There's a one-sided traffic in outrage which we tolerate and, quite frankly, we help enable. I'm not saying, I'm not defending burning the Quran, although the circumstances in which they were being used would strike me as in itself having been blasphemous, because as I understand it, they're being used as part of a process of passing out messages from people who were in prison. I don't know all the details.

"What I do know is that we have this one-sided game where our troops get killed, nobody apologizes, and now we're supposed to be the ones on defense, and I understand General Allen's in a difficult situation. But if President Karzai is not prepared to apologize for the killing of two Americans by an Afghan soldier, the wounding of four others, I think that this is a two-way street, and we ought to assess deeply exactly what we think is going on."
Gingrich proposed that President Obama, General Allen, and President Karzai could have held a joint press conference where both parties could publicly apologize to each other. Morgan noted that the burning of a Quran is a highly sensitive issue in the Muslim world, recalling the events of 2010 when one Florida pastor publicly stated he would be burning Qurans and it had a profound impact on the other side of the world. Gingrich acknowledged it was a mistake for the Qurans to be burned.
But he accused the Obama administration of always assuming Americans are to blame for incidents, and the president should not be going around apologizing for the country. Gingrich admitted he's tired of people saying Americans need to be politically correct when it comes to these matters.
RELATED: David Gregory Defends President Obama Against Rick Santorum's Accusation Of Appeasement
Watch Gingrich's remarks below, courtesy of CNN:
Have a tip we should know? tips@mediaite.com
Josh Feldman - Senior Editor