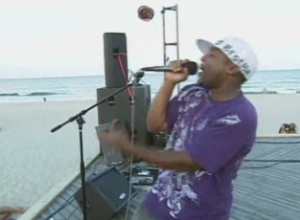 Apparently making lame puns off of the names of popular TV shows is no longer the sole domain of porn producers and Mad Magazine writers, as some church groups have gotten into the game too. Unhappy with the way the Garden State is portrayed in the hit MTV show Jersey Shore, a group of Jersey faithful have created "Jesus Shore," a Christian themed concert which attempted to show another side of the debauched beach. "Jesus Shore" tried to save fans of the reality series from the fiery pits of Hell where, we can only presume, they were headed to get a sweet tan.
The free concert, which was created by the groups Abundant Grace Church and Move The Earth of Toms River, featured a Christian rapper as well as "a Christian tattoo contest." While their hearts were in the right place, My Fox New York pointed out that their attendance was only a fraction of the massive crowds that were showing up just to be in background of shots that the MTV show was filming down the beach. This leads to perhaps the most depressing juxtaposition of shots ever in the video report below. Oh well, all the more Heaven for them, right?
Jersey Shore just premiered its second season and is now filming its third which has already featured one arrest. Having already offended Italian activist groups last year with its wanton use of the word "guido," the fact that the show has now annoyed religious groups as well is all it needed to be added to the pantheon of classic MTV programming.
(via Drudge)
Have a tip we should know? tips@mediaite.com