'Obamaphone' Upgrade: Laura Ingraham Blasts Plan To Give Away Cars In Immigration Bill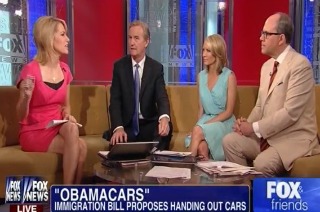 During Tuesday's Fox & Friends, conservative radio host Laura Ingraham revealed a variety of provision within the comprehensive immigration reform bill which passed the U.S. Senate on Monday. She said that that bill includes a number of provisions designed to attract the votes of reluctant Senators, including carve outs for Hollywood, Nevada's casinos, and a provision which provides for vehicles for eligible young people.

Ingraham said that the immigration bill as currently structured is replete with "giveaways."
"This bill is filled with so many, what should be, poison pills," Ingraham said. She noted that House Speaker John Boehner (R-OH) should look at this bill and consider it an "insult" to working Americans.
"He should give a phenomenal speech about why this process was polluted from the beginning and how the middle class can be served by the conservative agenda," Ingraham continued.
RELATED: Rand Paul Announces Opposition To Immigration Reform: Without Security Triggers, 'I Can't Support Final Bill'
Steve Doocy played a portion of a clip from September, 2012, featuring a woman endorsing President Barack Obama's reelection and saying that her vote was swayed after being given a free "Obamaphone."
"There is a provision in the immigration bill that could be used to give free cars, motorcycles, scooters, or other vehicles to young people," said Doocy.
Ingraham said that this provision was inserted in the bill to secure the vote of Sen. Bernie Sanders (I-VT) who otherwise would not have supported immigration reform.
"This immigration bill does not do what it says it does," Ingraham said. "This is going to lower wages and increase unemployment at least for the next 12 years and then we're going to find all these lovelies in it."
Watch the clip below via Fox News Channel:
> >Follow Noah Rothman (@NoahCRothman) on Twitter
Have a tip we should know? [email protected]