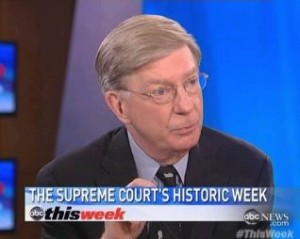 Almost three years ago, President Obama told George Stephanopoulos on This Week that he absolutely rejects the idea that the health care mandate is a tax increase. Stephanopoulos revisited that discussion on the show today in the wake of the Supreme Court upholding the health care mandate as a tax, with a panel that included a return appearance of Keith Olbermann on the Sunday show. While many conservatives view this decision as a temporary defeat, George Will argued there was plenty for conservatives to celebrate in the Supreme Court ruling.
RELATED: Huckabee On Health Care Ruling: 'It Is A Tax Because The Supreme Court Says So'
Will made the case that the Supreme Court ruling actually works out well for conservatives, because the "broccoli argument" made by many on the right was a winning one in this case given what limits the decision established on the Commerce Clause of the Constitution. He then turned to the subject of Medicaid expansion, and how the court set precedent that should be encouraging to conservatives.
"For the first time in history, a majority of states banded together to challenge the constitutionality of legislation and they won. For the first time since the New Deal, 75 years, the Supreme Court has overturned a federal spending statute on the grounds that by coercing the states, it undermines the dual sovereignty that is the heart of our federal position."
He added that if Romney wins in November, "Obamacare will be gone, [but] the Roberts precedent will remain."
RELATED: Paul Ryan: SCOTUS 'Raised The Stakes Of This Election,' Gave Americans Last Chance To Repeal Obamacare
Olbermann cut through the nuts and bolts of the mandate issue and focused on what he deemed was the more important aspect of the Supreme Court's ruling in the eyes of the general public.
"To the public, the outcome was, something the president proposed was upheld. Also, in a larger sense, if you think about what is a mandate… every day in our lives, we are subjected to the largest mandate any of us could ever have. We have to buy a product each day called the United States government. That mandate supplies everything from wars that we don't go along with to solicitor generals we disagree with to the salaries of the Supreme Court justices.

"So I think if you look at this from the layman's point of view, I think it's a pretty clear-cut victory for the president."
Watch the video below, courtesy of ABC:
Have a tip we should know? tips@mediaite.com
Josh Feldman - Senior Editor