O'Reilly And Goldberg Attack 'Snarky' Mainstream Media For Trying To Take Down NBC's Lauer And Leno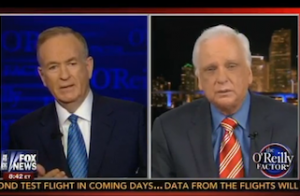 Monday night on Fox News, Bill O'Reilly and frequent guest Bernie Goldberg took the recent troubles surrounding the hosts of NBC's Today Show and Tonight Show. The two commentators agreed that the press have collectively decided to go after Matt Lauer and Jay Leno because every "famous and wealthy" person in the country is an easy target for a jealous media.
Goldberg found this to be a "relatively new and not especially attractive" phenomenon, primarily brought on by the advent of internet media, which is populated by writers making "very little money" who will jump at the chance to take down someone making $25 million per year. "This is how they derive their power," Goldberg said. "And they're going to do it." He lamented the "ironic" culture of the internet where each writer is trying to be "snarkier" than the next.
Just as Rush Limbaugh longed for the good old days of Walter Cronkite earlier today on his radio show, O'Reilly brought up that venerable CBS anchor as an example of someone the press would never have attacked the way they are attacking Lauer and Leno.
In the end, O'Reilly and Goldberg concluded that the main reason Lauer and Leno don't get favorable treatment from the media is that they appeal to Middle America, a quality that can spur strong ratings, but not good favor from the press. They argued that the most important thing you can be according to the mainstream media is "cool and hip," labels that are rarely affixed to Lauer and Leno. As Goldberg put it, if members of the media can get "snarky with the guy who appeals to Middle America, that makes you in some way cooler and hipper."
Watch video below, via Fox News:
—
>> Follow Matt Wilstein (@TheMattWilstein) on Twitter
Have a tip we should know? tips@mediaite.com