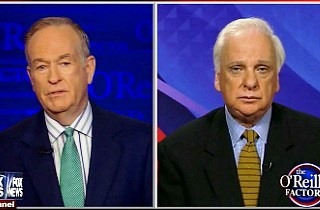 Bill O'Reilly and conservative media critic Bernard Goldberg lashed out at network news programs for failing to cover the stories surrounding how veterans were being mistreated during the government shutdown. They suggested that the networks were "tailoring the news" to groups that might not appreciate stories that are unfavorable to Democrats or President Barack Obama.

During a segment examining the lack of media interest in how veterans were mistreated during the government shutdown, O'Reilly observed that it was disturbing how little time a "hard news" organization, like CNN, decided to devote to those stories.
He said that the decision indicated to him that a CNN executive ceded the story to Fox News. "It wasn't a news decision, it was a counterprogramming decision," O'Reilly submitted.
"The fact that they played it down would indicate that you may be on to something," Goldberg opined. "We'll program to people who like President Obama, maybe, and don't want to hear bad news about him."
RELATED: Democrat, Republican Battle Tea Partier on CNN Over Whether GOP Shut Down Government
"All of this is happening because of Good Morning America," O'Reilly added. He said that ABC's morning program made the decision to cover "tabloid news" in the morning which elevated the show into the top rated morning program.
"Usually, ABC is fairly aggressive," he continued. "If President [George W.] Bush and Donald Rumsfeld denied military benefits, there would have been on ABC News – I guarantee you – Diane Sawyer sitting there with a family out in Iowa, crying, 'My son got killed.'"
He said that ABC did not cover military death benefits because women would not have appreciated the story.
"In a way, I hope you are wrong," Goldberg replied. "Think about the implications, that the networks are doing studies and finding out what precisely — what kind people are watching their news shows and they're tailoring the news."
O'Reilly said that the networks are now heaving to compete with the segmentation of the news that occurs on the internet and must tailor programming to select audiences. Goldberg said that cable news has already tailored coverage, but if the networks followed suit "the game's over."
Watch the clip below via Fox News Channel:
[Photo via screen grab ]
— —
> >Follow Noah Rothman (@NoahCRothman) on Twitter
Have a tip we should know? [email protected]