O'Reilly Confronts Howard Kurtz For Calling Him Out On NBC Drone Coverage Claim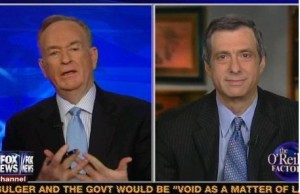 Last week Bill O'Reilly argued there is a concerted effort on the part of the liberal media to not cover Obama administration drone strikes, calling out NBC News by name. Only problem: NBC practically broke the story. O'Reilly's response last Friday to the media criticism was one giant denial, and tonight he faced off with media critic Howard Kurtz to continue insisting he did not misrepresent NBC's coverage of the drone story.
RELATED: Bill O'Reilly Defends NBC Drone Coverage Claim By Denying He Said What He Said
O'Reilly asked Kurtz if he watched the full segment last week. Kurtz said he watched the entire thing live on Fox News. O'Reilly argued that Kurtz and other media critics were missing crucial context about his remarks, namely that it was not about the straight news coverage of the drone strikes, but the news analysis of it and the liberal media silence over drones.
Kurtz pointed out that O'Reilly already admitted fault at not saying it, but O'Reilly shot back by claiming he only said that because "it would have avoided all this nonsense." He said he was "clearly" talking about why the left has no problem with drones, but objected strongly to waterboarding. Kurtz argued that waterboarding was a large political issue as opposed to the lack of attention drones got on the campaign trail last year, saying that it absolutely deserves the same kind of coverage.
O'Reilly asked Kurtz why, then, he's never brought up the issue on his show about media criticism. Kurtz said he has done a number of segments over the years on whether the media is too favorable or sympathetic to Obama. Kurtz insisted that he agrees with O'Reilly's point on hypocrisy, but said that "many in the mainstream media" have been "more diligent" in fairly covering Obama.
Watch the video below, courtesy of Fox News:
—–
Follow Josh Feldman on Twitter: @feldmaniac
Have a tip we should know? tips@mediaite.com
Josh Feldman - Senior Editor