Palin And Van Susteren Bash The Press Corps For Not Pushing Obama Admin On Libya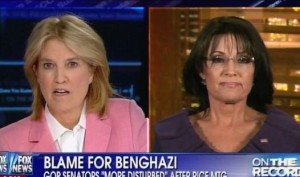 Sarah Palin appeared on Fox News tonight with Greta Van Susteren to talk about the continuing controversy over Susan Rice and the erroneous information she provided in the wake of the attacks on the U.S. consulate in Benghazi almost three months ago. Palin fought back against the idea that Rice is being targeted because of her race or gender, and criticized the media for "going right along" with the Democratic narrative on what happened and ignoring a serious scandal.
RELATED: Susan Rice: We Didn't Intend To 'Mislead The American People' On Benghazi
Van Susteren asked Palin if there is any inherent sexism or racism in the attacks against Rice. Palin said Democrats are just reaching with that attack, saying "this has to do with competency." Van Susteren even flipped the argument on its head, saying that the real sexism is to think "because she's a woman, she's given a pass" for providing false information.
Palin said there has been no actual apology nor clear explanation given to the American people, which she said perfectly exemplifies the lack of honesty and transparency in the Obama administration. Palin then went after the press, saying that the "mainstream media is going right along" and ignoring the scandal while the Obama administration is "play[ing] politics" with national security.
Van Susteren pointed out that only CBS and Fox News have seriously tried to confront the Obama administration and press secretary Jay Carney about the attacks. Palin said if she was part of the press pool that had to be lectured by Carney every day, she "would be quite offended" and be spurred to do more investigating into the matter.
Van Susteren pointed out the "dirty little secret" in DC media, namely that journalists do not go too much on the attack against the White House for fear of losing access. This set Palin on a larger condemnation of the White House press.
"So what if you lose access to Obama?… The American people don't care if a reporter is going to have access to the Obama administration because what's coming back as a result of having that privileged, powerful access is this lack of transparency… So why in the world would a reporter be concerned about whether they're going to get more of that fed to them?"
Van Susteren accused the Obama administration of trying to muzzle Fox News from receiving and being able to report on specific details of the Benghazi attacks and aftermath.
Watch the video below, courtesy of Fox News:
—–
Follow Josh Feldman on Twitter: @feldmaniac
Have a tip we should know? tips@mediaite.com
Josh Feldman - Senior Editor