Pelosi Accuses GOP Of Holding Up Funds Which Would Have Provided Security For Libya Consulate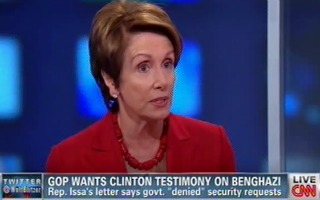 House Minority Leader Rep. Nancy Pelosi (D-CA) appeared on CNN with Wolf Blitzer on Tuesday where she sat down for a wide-ranging interview. The Minority Leader addressed the ongoing scandal surrounding President Barack Obama's administration's response to the September 11 attacks in Libya which left four dead, including Ambassador Chris Stevens. Pelosi said that Republicans in Congress withheld $300 million in funds for Libya which would have provided for enhanced security around the Benghazi consulate. When Blitzer asked if she thought Republican calls for an investigation into the incident in Benghazi were political in nature, Pelosi replied "One might suspect that."

RELATED: New Evidence Of Warnings Before Benghazi Attack: Consulate Bombed Twice Prior To 9/11 Assault
Blitzer read portions of a letter sent by House Oversight Committee members Reps. Darrell Issa (R-CA) and Jason Chaffetz (R-UT) to Sec. Hillary Clinton in which they reveal their knowledge that the mission in Libya made repeated requests for increased security after having come under attack several times in recent months. They say that those resources were withheld by Washington.
"It's also important to note that the Republican appropriation Congress gave the administration $300 million less than it asked for for the State Department, including funding for security," said Pelosi.
"Are you suggesting that there was a financial aspect to what happened in Benghazi, Libya," Blitzer asked. "That the U.S. was not enough money to protect American diplomats?"
Pelosi said that the Congress has the power of the purse, and that no one would know exactly what happened in Benghazi in the near future. "But we also have to look to ourselves in terms of that funding question," said Pelosi.
She went on to slam Republicans for not holding a full hearing on the events on Benghazi and said that Democrats had held a hearing on Medicare without Republicans.
"So, are you saying this is political from their perspective," Blitzer replied.
"One might suspect that," said Pelosi.
Watch the clip below via CNN:
> >Follow Noah Rothman (@Noah_C_Rothman) on Twitter
Have a tip we should know? tips@mediaite.com