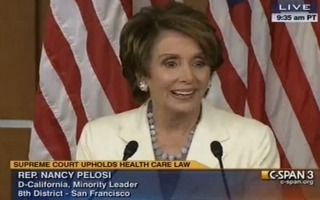 House Minority Leader Rep. Nancy Pelosi (D-CA), in a press conference after the Supreme Court upheld most of President Barack Obama's health care reform law, said that Americans can now enjoy the benefits of the fully implemented law and "the best is yet to come." She went on to say that the late Sen. Ted Kennedy (D-MA) can "rest in peace" now that his work is complete.

RELATED: Obama On SCOTUS Decision: Declares Health Care Fight Over And Asks Nation To 'Move Forward'
Pelosi said that the Supreme Court decision allows families already benefiting from the Affordable Care Act to continue to enjoy its provisions – most notably, allowing individuals to remain on their parents insurance up to the age of 26 and prohibiting insurers from discriminating against those with preexisting conditions.
"It's pretty exciting," said Pelosi. "It was, as you know, no surprise to us." Pelosi said that the Democratic Caucus in the House always knew that they were on "solid ground" as far as the constitutionality of the Affordable Care Act is concerned.
"Now we can move forward to the full implementation of the law and, when that happens, for the American people the best is yet to come," said Pelosi.
She went on to praise the late Massachusetts Sen. Kennedy who worked for most of his Congressional career towards a comprehensive reform of America's health care system.
"I knew that when he left us, he would go to heaven and help pass the bill," said Pelosi. "And now I know he was busily at work until this decision came down – inspiring in one way or the other. And now, he can rest in peace."
"His dream for America's families has become a reality," Pelosi concluded.
Watch Pelosi's press conference below via C-SPAN 3:
> >Follow Noah Rothman (@Noah_C_Rothman) on Twitter
Have a tip we should know? tips@mediaite.com