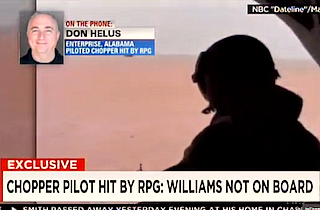 Don Helus, who piloted the chopper that sustained an RPG attack in the story that has embroiled NBC Nightly News anchor Brian Williams in controversy, told CNN's Brian Stelter he contacted NBC News 10 years ago to inform them of what he called Williams' inaccurate account of the attack — and received no response.
Williams is currently on a voluntary leave of absence after admitting a story he has been telling for years about taking rocket fire in Iraq was untrue. Helus' chopper was attacked, but Williams was nowhere near it.
Helus said the first time he became aware of Williams' tall tale was when he was asked by a friend about Williams being on his flight; the friend then proceeded to show him video of a television interview Williams gave in which Helus said the reporter claimed to have been on his aircraft. Helus emailed NBC but never heard back.
This was in April of 2003. If Helus' account is true it means Williams began elaborating and embellishing the tale long before 2007, when the current timeline suggest the story departed from fact. Williams gave a contemporaneous interview with Tom Brokaw in 2003 in which he in fact said the attack happened to a different chopper.
"The fact is, Mr. Williams wasn't in or near our aircraft at the time," Helus said. "It saddens me that you have so many combat journalists out there who are in that situation, seeing those things happen, and more than likely they don't tell the story like that, with that embellishment."
Watch the clip below, via CNN:
[Image via screengrab]
——
>> Follow Evan McMurry (@evanmcmurry) on Twitter
Have a tip we should know? tips@mediaite.com