Politico Slams CNN For Rerunning Diamond Jubilee During Wisconsin Recall Climax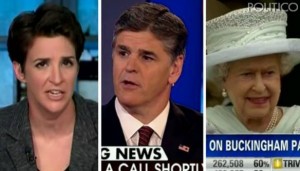 As Democrats and Republicans wrestle for control of the post–Wisconsin recall narrative, Politico's Dylan Byers decries the state of cable news election coverage on what he calls the "Worst night on cable news."
Clearly fed up with what he views as the "blatant partisan coverage" on Fox News and MSNBC, Byers notes that voters turning to CNN for relief as the race was being called for Scott Walker were greeted with a rerun of Queen Elizabeth II's Diamond Jubilee.
Byers' complaints with the other networks can be summed up in one word: blatant. Congratulations to all who own stock in the word:
MSNBC was blatantly rooting for Tom Barrett to defeat Gov. Scott Walker, even sending union champion Ed Schultz to cover an event with no apologies for the dog he has in the fight.

…Meanwhile, Fox News was blatantly rooting for Gov. Walker, and the moment it became clear that Walker might win, host Sean Hannity called it "a repudiation of big unions," which did "everything they could do to demonize Scott Walker."

…Given this blatant partisan coverage, it was absolutely impossible to watch either network and weed out any clear understanding of the actual significance of the event, much less what effect it would actually have on the 2012 presidential election.
He identifies this as a golden opportunity for CNN to show off its down-the-middle brand, but notes that as NBC News was calling the recall election for Scott Walker at about ten minutes to ten, CNN was airing a repeat of Piers Morgan Tonight's coverage of Queen Elizabeth II's Diamond Jubilee:
Byers adds:
Eight minutes later, CNN's Wolf Blitzer interrupted the network's rerun of the Queen's Diamond Jubilee to break the news.

CNN has no obligation to cover the Wisconsin recall, and one could argue that CNN doesn't need to break that political news, or spend the 10 o'clock hour speculating on the potential political ramifications of the various outcomes. But I highly doubt that CNN would make that argument.

Remember: This is the network that won the primaries, and gets its best primetime ratings when there's a political race.
Inside Cable News points out that Byers has a loose definition of "won the primaries," but his overall point stands: an election like this presents a unique opportunity for CNN to shine, one which they apparently missed by 8 minutes last night. They did provide several hours of continuous live coverage after that.
There are really several valid critiques rolled into one here, but first, in fairness to CNN, their apparent decision to cover the Wisconsin recall starting at 10 only suffers in hindsight. NBC's call of that race came much earlier than anyone expected (one Walker supporter told NBC News she thought it was a joke), and the very hyper-partisanship that Byers identifies about this race cuts against CNN believing that there would be broad interest in a blow-by-blow gabfest leading up to the results. Even so, though, an hour of that would probably have been better than rerunning the Diamond Jubilee.
As a member of the opinion media, I have no problem with blatant partisan coverage, i.e. a clearly-labeled point of view, but I do think that MSNBC and Fox News do a poor job of explaining, to their respective audiences, what the other side thinks, and why they think it. You can have a point of view, yet still provide context in good faith.
CNN, however, can't seem to win with critics, who mock them for killing time during looong hours of election coverage, then dings them for trying to keep their coverage to a reasonable length. Despite our carping, what CNN viewer wasn't longing for a Holographic Cheese Wheel, or a Virtual Political Dairy Farm last night? With Fox News and MSNBC already giving their audiences what they want to hear, CNN's challenge is to find an audience that cares, but not enough to have their minds made up already.
Follow Tommy Christopher (@TommyXtopher) on Twitter.
Have a tip we should know? tips@mediaite.com