Rachel Maddow: Media Coverage Of Obama's 'Stop Complaining Speech' Undermined Positive Message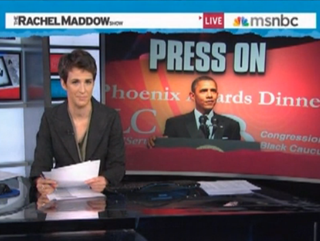 Over the weekend, President Barack Obama delivered a speech at a Congressional Black Caucus event asking for his support to pass his much-touted jobs bill, where he asked of the crowd to "stop whining" and get behind his proposition. The "stop whining" soundbite made the rounds in the media, of course, as a rebuke of the CBC, but on her program tonight, Rachel Maddow argued the President's speech was actually rousing and inspiring, and received widespread praise from the audience the media claims was getting harangued.
Maddow played an extensive clip from the President's remarks over the weekend, highlighting the positive rallying bits. She then turned to a number of headlines from various media sources– from the AP to yours truly— and found a discrepancy between the coverage and the facts. "Reading those headlines," she noted, "you might think the President gave a chiding, lecturing, finger-grabbing speech." Instead, Maddow argued, it was a "Let's-Get-Up-And-Go campaign speech that brought thunderous support from the crowd"– a crowd the media claims was getting scolded.
To back up her argument, Maddow discussed the coverage with Congressional Black Caucus member Rep. Barbara Lee, who agreed that the "stop whining" was generally directed to people who were being negative about his progress, and "that couldn't have been directed to the Congressional Black Caucus." Rep. Lee reminded the audience that President Obama had been, in fact, a CBC member before being Commander in Chief, so "the President knows how much these great members who have sacrificed so much in their lives have fought to make the country better." She agreed with Maddow that it was only an instance of "using the bully pulpit to say 'we have to work together to create jobs.'"
The segment via MSNBC below:

Have a tip we should know? tips@mediaite.com