Rachel Maddow Tears Apart Dick Morris After Receiving Letter From His Lawyer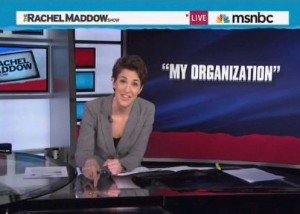 Last month, Rachel Maddow did a segment on how some conservative PACs and fundraising organizations might really be scams, citing Fox News pundit Dick Morris's Super PAC for America as an example. As a result, Maddow received a letter from Morris' lawyer stating that not only was Maddow incorrect about a large sum of the money Morris raised going right back into his pockets, but it is not Morris' organization, despite him once referring to it as "my organization."
RELATED: Dick Morris Explains Romney Landslide Prediction: 'I Felt It Was My Duty' To 'Say What I Said'
Dick Morris became notorious during the 2012 election for his overwhelmingly bullish predictions of a Romney victory that ultimately blew up in his face. There were a lot of pundits who got the election wrong, but Maddow singled out Morris as getting it "spectacularly wrong" and becoming a "touchstone" for just how badly Republicans read the polls in the past year.
Maddow revealed that she got sent a letter by Morris' lawyer regarding her referral to Super PAC for America as Morris' organization, asking that it not be referred to as Morris' organization, despite Maddow pointing out that Morris actually did refer to it as "my organization" in a post on his website running up to the 2010 midterms. The letter claims Morris was only asked by the organization to help it in its goal to elect Mitt Romney last year, but as stated above, Morris called it "my organization" over a year before the election actually began.
Maddow couldn't fathom why Morris would want to distance himself for the organization, and while making it clear that Morris' title is only "chief strategist," she still found it striking that he called it "my organization." And while most Super PAC are supposed to be safe harbors for the big donors to shovel money into, Super PAC for America raised over $2.1 million dollars in multiple contributions of $200 and under in the last few weeks of the election.
Maddow revisited the segment she did last month to point out that much of the Super PAC's "fundraising" money went to the conservative website NewsMax, and since Morris rented his e-mail list to NewsMax, Maddow again brought up her hypothesis that much of the money Morris raised from donors to help defeat President Obama ultimately went right back to him.
The letter from Morris' lawyer to Maddow quibbled with her claim last month that a "substantial" portion of that money went right back to Morris, but they did confirm that the way she described the money flow was accurate. Maddow apologized for overstating how much money went back to Morris, but as for the rest of it, Maddow stuck by her story and said she's not just going to retract something just because people don't like it.
Watch the video below, courtesy of MSNBC:
—–
Follow Josh Feldman on Twitter: @feldmaniac
Have a tip we should know? tips@mediaite.com
Josh Feldman - Senior Editor