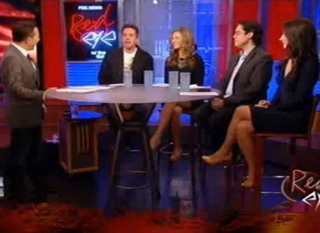 Former Virginia governor George Allen may be most famous for once calling an Indian American "macaca" on the campaign trail, but now he's making news again for repeatedly asking a black NBC reporter what "position" he played, continually forgetting he didn't play a sport at all. The Red Eye panel was somewhat torn on what to make of this– was Allen, now a Senate hopeful, a "casual racist," or a "shitty conversationalist"?
Host Greg Gutfeld appeared initially unconvinced that Allen was a racist particularly– after all, sports banter had done so much to strengthen his relationship with Andy Levy. But panelist John DeVore disagreed, calling him a "nice, casual racist"– the kind that assumes you like basketball because you're dating a black person, but doesn't necessarily actively think of minorities as inferior. He later described him as an "uncle" type that had had a few beers, though Levy later thwarted his theory with a tweet from a white reporter who chimed in that, for what it's worth, Allen constantly asks him about sports, too. "Racism solved!" DeVore exclaimed.
Gutfeld got more support from Remi Stern, who argued the sports talked was "like a bad second date where the person doesn't remember anything he asked on the first date," and agreed with Gutfeld that NBC reporter Craig Melvin's decision to confront Allen over Twitter and not in person was in poor taste.
Meanwhile, there was an entirely different genre of objection to Allen's comments to be explored. Panelist Jesse Joyce just objected to Allen as a "shitty conversationalist"– "nobody cares about sports questions… do you really want to hear his little league conquests?" He instead suggested more interesting topics to ask during small talk, like "what medicines he takes" or airport security experiences.
The discussion via Fox News below:

Have a tip we should know? tips@mediaite.com