Rep. Peter King on 'Obese' Eric Garner: 'If You Can't Breathe, You Can't Talk'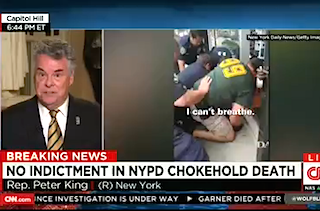 Rep. Peter King (R-NY) followed up on his tweet thanking the grand jury for deciding not to indict the officer who killed Eric Garner with a chokehold by explaining his take on the case to CNN's Wolf Blitzer Wednesday evening. Despite the video evidence of Garner repeatedly saying "I can't breathe" as officers tackled him the ground and choked him until he ultimately died, King would not allow that excessive force had been used.
"First of all, the death was tragic, and our hearts have to go out to the Garner family," King began. Getting that obligatory statement out of the way, the congressman reiterated that he does not believe the officer should have been indicted and proceeded to defend the police actions.
-RELATED: GOP Rep. Peter King Thanks Grand Jury for Not Indicting Chokehold Cop
"If he had not had asthma and a heart condition and was so obese, almost definitely he would not have died for this," King said of Garner. "The police had no reason to know he was in serious condition." On Garner repeating "I can't breathe," King said, "the fact of the matter is, if you can't breathe, you can't talk." He even suggested that Garner may have been faking those symptoms so the police would go easier on him.
"People are saying very casually that this was done out of racial motives or violation of civil rights," he continued. "There's not a hint there that anyone used any racial epithet." He said he has "no doubt" that a "350 pound white guy" would have been treated the same way.
Finally, King addressed the likelihood that a civil rights case would be brought by the federal government against the officer. "President Obama, if he's serious about trying to bring racial peace to this country, the last thing he should be doing is having Al Sharpton sit in the White House," he said. "When he says that people in the African-American community don't trust the police, one of the reasons is because agitators like Al Sharpton are constantly criticizing and attacking and denouncing the police before he has any idea what the facts are."
Watch video below, via CNN:
[Photo via screengrab]
— —
>> Follow Matt Wilstein (@TheMattWilstein) on Twitter
Have a tip we should know? tips@mediaite.com