Republican MSNBC Contributor: CPAC 'Is The Star Wars Bar Scene Of The Conservative Movement'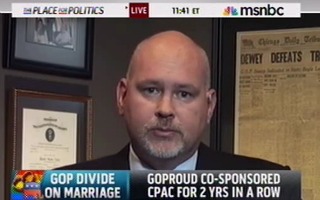 Former campaign manager for Sen. John McCain's (R-AZ) 2008 presidential bid and MSNBC contributor Steve Schmidt joined anchor Thomas Roberts today to weigh in on the Conservative Political Action Conference's decision to bar both gay conservative groups and New Jersey Gov. Chris Christie from attending the conference. Schmidt tore into CPAC, calling it the "Star Wars bar scene" of the conservative movement.

RELATED: Scarborough Tears Into Christie's CPAC Snub: Maybe 'I Am A RINO' — Since GOP Doesn't Care About Winning
Roberts asked Schmidt what sense it makes for CPAC not to invite Christie to the conference. "Why does the CPAC organization want to risk alienating burgeoning stars like a Chris Christie?" Roberts asked.
"Look, this CPAC convention is increasingly the Star Wars bar scene of the conservative movement," Schmidt shot back. "All that's missing from that convention is a couple of Wookies."
Schmidt heaped praise on Christie, saying that he is "the most effective governor in the country," that he has behaved like an adult in office, and he could potentially remake the electoral map if he runs for president in 2016.
"CPAC is not the Republican Party," Schmidt continued. He decried the "exclusionary policies" that CPAC adopts towards conservative LGBT groups and denounced the organization's decision to allow speakers who occupy "the fringe."
"These are people that don't attract a wider audience that we need to attract to win elections," Schmidt said. "That group has almost no bearing on who we're going to pick as our next nominee."
Watch the clip below via MSNBC:
> >Follow Noah Rothman (@NoahCRothman) on Twitter
Have a tip we should know? tips@mediaite.com