Retired Justice Stevens Disappointed By GOP Debate Cheers, Says Capital Punishment Is 'Wrong'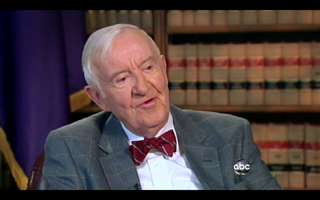 On last night's Nightline, retired Justice John Paul Stevens told George Stephanopoulos that in his 34 and a half years of service, "I really think that I've thought over a lot of cases I've written over the years.  And I really wouldn't want to do any one of them over." Except for maybe one: the 1976 Jurek v. Texas case wherein the death penalty was upheld as not cruel and unusual. "I think that I came out wrong on that," he says.
"I thought the court was adopting procedures and rules that would confine the imposition of the death penalty into a very narrow set of cases. And they took special pains to have fair procedures. And over the years, the– I was disappointed to find they expanded the category of cases, rather dramatically later on," Stevens explained.
Stevens, who was appointed by Republican President Gerald Ford in 1975, says that he was "rather disappointed" to hear GOP debate crowd cheer Rick Perry's execution record. "Maybe one believes, as certainly a lot of people sincerely do, that it is an effective deterrent to crime and will in the long run will do more harm than good," he offers, admitting that he is not, in fact, one of those people. Rather, he suggests that capital punishment's main function might be otherwise. "Being hard on crime has been– always– is politically popular, let's put it that way," he says.
And as for whether or not he would uphold President Obama's healthcare legislation if it passes through the Courts, he remained mum, offering only advice to current members. "If you've got a case to decide, just decide it on the merits," he said, urging them to work within the realm of constitutional law and not politics. "I think that's part of the job of a judge," he counseled. "If a case is there, the judge, the court has a duty to decide it. I think they just have to decide it and not think about that particular consequence."
Read the full transcript of their conversation here, or watch the video segment below:
Have a tip we should know? tips@mediaite.com