Rick Santorum Tells Rep. Ron Paul To Stop 'Parroting Osama Bin Laden' At CNN Debate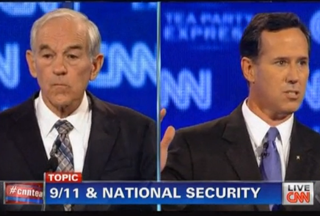 The ideological rivalry between Rick Santorum and Rep. Ron Paul, arguably the most conservative and libertarian members of the 2012 race that are allowed on debate stages, has become a fascinating subplot of the 2012 debates, and tonight sparks flew as Santorum challenged Rep. Paul's foreign policy, comparing his opinions to Osama Bin Laden and putting him on a defensive that earned him boos.
"We are under threat because we occupy so many countries," Rep. Paul began, explaining that the "purpose of al-Qaeda in attacking us" was to "invite us" to invade. Noting the difference between military and defense spending, Rep. Paul argued that America needed "a foreign policy that takes care of our national defense" but is "willing to get along with trade with people." "There is no authority in the Constitution to be the police of the world," Rep. Paul concluded.
Santorum, obviously disgusted with that answer, turned to Rep. Paul. "On your website, on 9/11, you had a blog post that basically blamed the United States for 9/11– on your website yesterday," Santorum noted, "You said that it was our actions that brought about the actions of 9/11." Calling this "irresponsible," he demanded of Rep. Paul that a presidential candidate "should not be parroting what Osama Bin Laden said on 9/11," as the attacks are not a result of our behavior, but because "we have a civilization that is antithetical to the civilization of the jihadists."
Rep. Paul responded with an attempt to explain what he believed was the motive pushing al-Qaeda, an explanation met with boos– a rare sound in debates, where heavy Paul contingents are typically in attendance. The biggest boo line? The suggesting that America is being unfair to Palestinians.
The segment via CNN below:

Have a tip we should know? [email protected]