Rielle Hunter Tells Piers Morgan: 'I'm Absolutely Sorry For Any Pain' I Caused Elizabeth Edwards
Rielle Hunter: 'I'm Absolutely Sorry For Any Pain' I Caused Elizabeth Edwards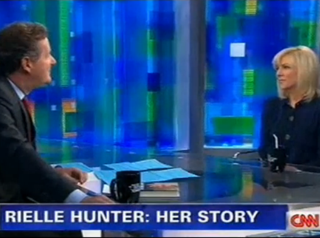 In what will go down as one of the most uncomfortable interviews in the history of Piers Morgan Tonight, Rielle Hunter sat down for half an hour to answer brutally candid questions about her affair with John Edwards. Piers Morgan didn't spare any salacious detail in the book, asking Hunter whether it was the best sex of her life, whether she regretted speaking negatively of Elizabeth Edwards, and playing her a clip of John Edwards denying her daughter was his on television.

RELATED: Rielle Hunter In New Book: The Sex Tape Was John Edwards' Idea
Morgan asked her about the details in her book about her first night with Edwards, which made Hunter very uncomfortable and set the tone for much of the interview– Morgan pointing out that she discussed certain things in her book, and Hunter decrying the media "for making everything so salacious." Denying that she said it was "the best sex you ever had" led Morgan to simply ask the question, to which she replied, "do you really think men cheat for bad sex?" "Some must do! Some must be bitterly disappointed," Morgan joked.
He then turned to Elizabeth Edwards, asking Hunter whether she had regret as to how she talked about Edwards in the book. Hunter alleged that she did not say anything offensive about Edwards in the book, and accepted that "when someone is dead and can't answer back, it looks graceless." "My intention was never to bash Elizabeth Edwards… I saw Elizabeth through the eyes of John Edwards." The interview continued to be extremely uncomfortable as Morgan wondered whether she believed what Edwards told her about his wife, given that he had lied many times before. "You must be regretful about your impression of her," Morgan wondered, asking if Hunter was sorry. "I'm absolutely sorry for any pain that I caused anyone, especially Elizabeth," Hunter replied. "I regret being able not to speak to Elizabeth."
Hunter also answered that she "never would've gone" with the cover-up after the Enquirer reported on the affair, and only did so out of "fear" that "my daughter would not have a relationship with him." As Morgan began to play the clip of Edwards denying the affair, Hunter sighed a sarcastic "thanks" in the background, explaining after the video that "even knowing he was going to do it did not prepare me for what I felt."
The segment via CNN below:

—–
»
Follow Frances Martel on Twitter
Have a tip we should know? tips@mediaite.com